Marc-Andre Fleury calls performance in Wild's 7-3 Game 2 loss at Dallas 'embarrassing'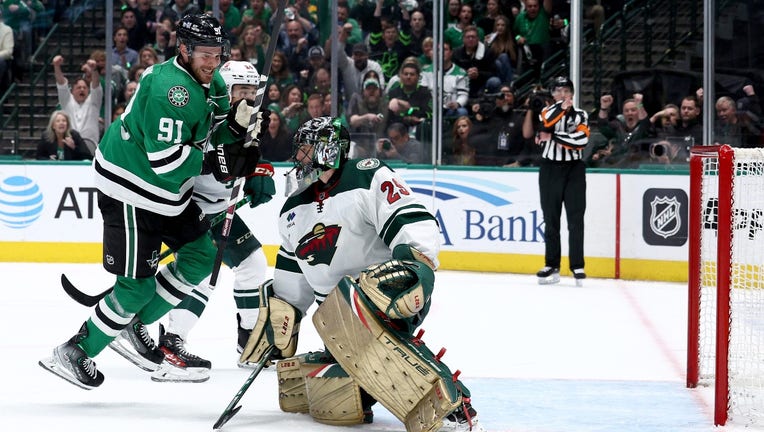 article
MINNEAPOLIS (FOX 9) - Dean Evason and the Minnesota Wild will have some explaining to do after a 7-3 loss to the Dallas Stars in the Stanley Cup Playoffs Wednesday night to even their series 1-1.
Evason decided to start Marc-Andre Fleury in net for Game 2, despite rookie Filip Gustavsson setting a franchise record with 51 saves in his playoff debut Monday night, a double overtime game that went more than 92 minutes. The decision, even though rotating goalies was part of the plan, completely backfired. Fleury gave up at least six goals for the sixth time in his playoff career, and the seven goals the Wild allowed is the most in a playoff game in franchise history.
Evason defended the decision to start Fleury after the loss.
"It's what we do, we've done it all year. The game, nothing was on Flower tonight. It was all on us," Evason said. "We made the decision to go with Flower. They had a short-handed breakaway and two power play goals, what would you like Flower to do?"
"Flower had no help," winger Mats Zuccarello said.
Fleury was accountable for his performance after the loss.
"Embarrassing on my part giving up seven goals like that in the playoffs. I want to come in and give a chance to my team to stay in the game and win, and that's not what I did. I gave up too many goals," Fleury said.
The night started with Roope Hintz scoring a short-handed goal at 4:14 of the first period to give the Stars an early 1-0 lead. It got to 2-0 as Tyler Seguin scored on the power play on a tip-in, on the back end of a double minor high-sticking penalty to Jacob Middleton.
The Wild cut it to 2-1 before the end of the first period on Oskar Sundqvist's goal after a feed from Gustav Nyquist.
The Stars extended their lead to 4-1 in the second period on goals from Jamie Benn and Evgeni Dadonov. The Wild answered with a pair of goals 11 seconds apart from Marcus Johansson and Freddy Gaudreau to cut the deficit to 4-3. Dallas answered with goals from Dadonov and Hintz 48 seconds apart to take the lead back at 6-3, and the momentum.
Hintz finished off a hat trick at 12:16 of the third period with a power play goal to give the Stars a 7-3 lead. Special teams was a key piece of the game, with the Wild allowing a short-handed goal and three power play goals.
After Wednesday night's loss, there shouldn't be any questions for Game 3 as to who the Wild will have in net. Not all seven goals are on Fleury, but this series is for Gustavsson moving forward.
The Wild hosts the Stars for a pivotal Game 3 Friday night at Xcel Energy Center after winning Game 1 in Dallas on Monday.
"That's the positive, right? We have a split here and we are going home, so that's the positive. We have to not make the same mistakes that we made here tonight," Evason said.