Minnesota Wild keeps season alive with 4-2, Game 5 win over Golden Knights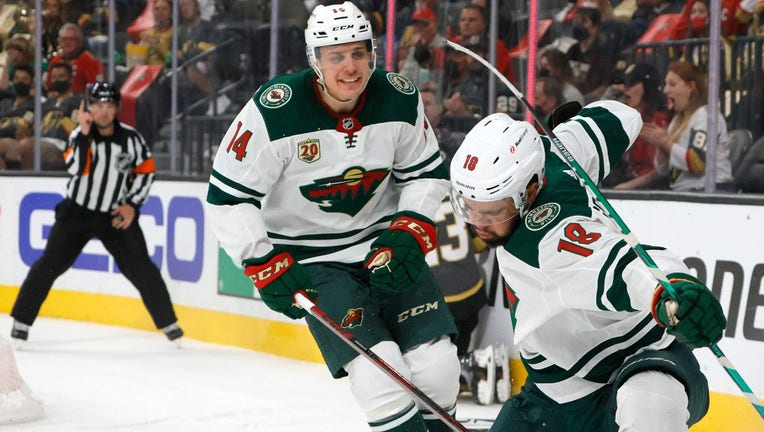 MINNEAPOLIS - The scenario was simple for the Minnesota Wild Monday night: Beat the Vegas Golden Knights in Game 5 and bring the playoff series back to St. Paul. Lose, and your season is over.
The Wild met as a team after morning skate, and the message among players and coaches was equally simple: We're not done yet. The Wild got a trio of first period goals, survived a Golden Knights' onslaught in the second period, got another stellar performance from Cam Talbot and an empty net goal late in a 4-2 win over the Golden Knights in front of more than 10,000 fans at T-Mobile Arena.
The series now returns to St. Paul Wednesday night for Game 6. The team didn't want to address Monday's meeting specifically, but the Wild clearly didn't want to lose a playoff series for the fourth straight year winning just one game.
"I think we like to keep what was said internal. I think the theme all along the last couple days has been win a game. Win a period, win a shift, win a game and go from there," forward Zach Parise said. "Our mentality was just let's go down there, give it a great effort and bring the series back to Minnesota."
The Wild was in no mood to do a handshake line Monday night.
"The feeling in the dressing room this morning, the excitement, just the vibe that they had, we knew that we were going to have the effort that we had," coach Dean Evason said. "We didn't know that the result was going to be there and we had to go through some stuff to get to where we are right now, but definitely proud of the group for that."
The night didn't get off to a great start as Mark Stone scored his fourth goal of the series, giving the Golden Knights a 1-0 lead at 8:14 of the first period.
The Wild answered with three straight goals to take a 3-1 lead after the first period. Kirill Kaprizov got his first career playoff goal, Parise scored his first goal of the series after three healthy scratches and Jordan Greenway buried his own rebound. The Wild got three goals about seven minutes apart, and nobody was more excited to score than Parise, who got his 15th career playoff goal and 35th playoff point.
"There was a lot of emotion behind that one. I was pretty happy to see that one go in and give us a lead at the time," Parise said.
Everything changed in the second period, and without Cam Talbot, it could've ended the Wild's season. The Golden Knights out-shot the Wild 22-1, but only managed on power-play goal after Alec Martinez blasted a one-timer off the skate of Jonas Brodin and past Talbot.
The Golden Knights got the first 14 shots on goal in the second period, and the Wild rarely had the puck in the offensive zone. Yet after 40 minutes, the Wild let 3-2.
"Fortunately we didn't give up the lead, so that was good. We've done that in the past. Cam stepped up and helped us a lot, we had some huge penalty kills there and some huge blocks. We sacrificed to get it done and get out of that second period," defenseman Ian Cole said.
Talbot continued to make big saves in the third period, the Wild sacrificed their bodies to block shots and Nico Sturm got an empty net goal with 37 seconds to play to seal a 4-2 Wild victory. Minnesota got the win despite being out-shot 40-14, and not getting a single power play the entire game.
The Wild didn't have a ton of scoring chances Monday, but they took advantage when they were there.
"It was rewarding for the entire squad just to know that if we take advantage of our opportunities and create the quality chances that we did, we can score and we can have the success that we had tonight," Greenway said.
Evason said it came down to Wild players believing in themselves. They scored just four goals in four games leading up to Monday night. Then, three goals in the first period, and the clincher late in regulation.
"The looks that we were getting, the goals that we scored tonight, that's exactly what we've talked about, they've talked about continually. We have to just continue to do that and believe that we're going to get some bounces," Evason said.
The two teams now return to St. Paul for Game 6 Wednesday night at Xcel Energy Center. The Wild still face elimination, trailing 3-2 in the series, and need a win to force a decisive Game 7 Friday.
"We got the win, that's what matters. We're going to go home for Game 6 and try to get another one," Cole said.