Cousins, Beebe rally Vikings to 28-27 win over Panthers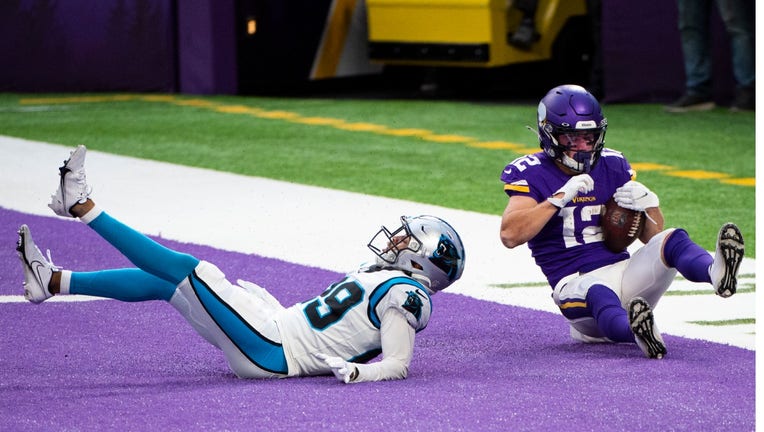 MINNEAPOLIS - The Minnesota Vikings are still alive in the NFC Playoff picture, at least for another week.
It sure didn't look like that would be the case late in the fourth quarter. With 1:51 to play, no timeouts and Minnesota trailing the Carolina Panthers 27-21, Kirk Cousins drove the Vikings 75 yards and hit Chad Beebe with the game-winning touchdown from 10 yards out with 46 seconds left.
Teddy Bridgewater tried to answer, driving the Panthers into range for a potential game-winning field goal. But Joey Slye, who had a field goal blocked by D.J. Wonnum earlier in the game, missed wide left from 54 yards out and the Vikings left U.S. Bank Stadium with an improbable 28-27 victory. They're 5-6, and with five games to play, are still in the hunt for an NFC Wild Card playoff spot.
The Vikings have now had seven of their 11 games either finish within one score or come down to the final possession.
"That's kind of how the year has gone this year. It seems like every one of these games comes down to some chance to win the game at the end. We were fortunate today. We fought like crazy today and need to continue to do that," Vikings coach Mike Zimmer said. "We made it thrilling there at the end, but we got it done."
"Great to get one after having some really close losses that were a play away from being a different outcome earlier in the year. Really encouraged by us finding a way to win," said Cousins, who finished 34-of-45 passing for 307 yards, three touchdowns and a 115.7 rating.
For Beebe, it was all about redemption. He missed most of last season and five games in 2018 due to injuries. He entered Sunday's game with seven catches on the season. He left the win with seven catches for 63 yards, and the biggest catch of the game.
That's after muffing a punt that should've sealed a win for the Panthers. Beebe took his mistake personally on the final drive.
"At the end of the day on punt return, it's my job to catch the ball and I didn't do my job," Beebe said. "Things aren't always going to go the way you want it to. But in life you're always going to have a chance to make up for it. Never give up attitude."
The Vikings' defense helped that ending happen in a major way. They limited Teddy Bridgewater to 267 yards, one touchdown and an interception from Eric Kendricks in the red zone. They forced two drives to end in field goals, including after Beebe's muffed punt had Minnesota pinned in a goal-to-go situation.
Carolina's play-calling left the Vikings a chance with time on the clock. They never gave up.
"I think we did a great job of responding to adversity in the game, offense and defense. It played a major part in the win. I think we did a great job of just responding and making plays when we needed them," linebacker Eric Wilson said.
The day was supposed to be about Bridgewater coming back to Minnesota to face his former team after a horrific knee injury in 2016. Instead, it's about Cousins leading a game-winning drive, the defense stepping up in key situations and Beebe redeeming himself after one big mistake.
Without Adam Thielen, in quarantine after being placed on the COVID-19 list on Monday, Cousins hit seven different receivers on Sunday. Five of them had at least four catches, and Bisi Johnson, Justin Jefferson, Kyle Rudolph and Beebe all had seven apiece.
Cousins connected with Jefferson for two touchdowns, the first giving them a 7-0 lead in the first quarter. The second, on a 10-yard play where Jefferson broke a tackle and dove for the pylon, got the Vikings within 24-21 after a successful two-point try to Johnson with 5:31 to play.
Carolina answered Cousins' early touchdown as Bridgewater hit Robby Anderson for a 41-yard score with Ifeadi Odenigbo, not by intention, in coverage. Dan Bailey gave the Vikings the lead at the half with a 53-yard field goal.
That's when the trouble started for the Vikings. Shaq Thompson got a strip sack of Cousins to open the third quarter, and Jeremy Chinn ran it in for a touchdown and 14-10 Panthers' lead. On Minnesota's next offensive play, Dalvin Cook fumbled. Chinn picked it up and ran it in for his second straight score. The Panthers led 21-10, and to complicate matters, Cook left the field in pain with help of two trainers and didn't put any weight on his right leg.
He had an ankle injury, later returned and finished with 18 carries for 61 yards, and four catches for 21 yards. Chalk the injury up to nothing more than a big scare.
Bailey got the Vikings within 21-13 early in the fourth quarter on a drive that included an illegal snap by Garrett Bradbury, Cousins getting flagged for an illegal forward pass and Zimmer burning a timeout to avoid a delay of game penalty.
The Panthers got another field goal with 11:31 to play, and the Vikings' season hung in the balance, trailing 24-13. Cousins hit Jefferson for a touchdown, and the two-point try to Johnson got the Vikings within 24-21.
The Vikings' defense got a stop, then held the Panthers to a field goal after Beebe's muffed punt. It all set up the heroics between Cousins and Beebe at the end. After a 1-5 start, the Vikings have won four of their past five games and are one game behind the Arizona Cardinals for a playoff spot with the 1-10 Jacksonville Jaguars coming to town.
"I've always felt we have a really good locker room with good quality and character guys who are just going to keep playing and not going to get down or give up and point fingers. A day like today, you get to see that character shine through," Cousins said.
"We've still got a lot of football left to play. Still got a lot of good teams, we've just got to worry about ourselves and how we approach each week," Zimmer said.