Minnesota Vikings talk offseason, roster decisions with NFL Draft 2 weeks away
MINNEAPOLIS (FOX 9) - The NFL Draft is exactly two weeks away, and the Minnesota Vikings have several questions and positions to address, all as the team's offseason workout program starts next week.
It's a much different feeling around TCO Performance Center in Eagan as Kwesi Adofo-Mensah and Kevin O'Connell go into year two. The foundation has been laid, the culture has been established for how they want to win. It mostly worked in year one, to the tune of 13 wins and a division title. After a year of learning names, the facility and installing new schemes, year two is about football.
Adofo-Mensah and O'Connell spoke with reporters on Thursday about their offseason, and the upcoming draft.
"The fire hose isn't going as much as it was last year. That was a tough transition, just so many things coming at you," Adofo-Mensah said. "We've built something great and we really like where we're at from our process."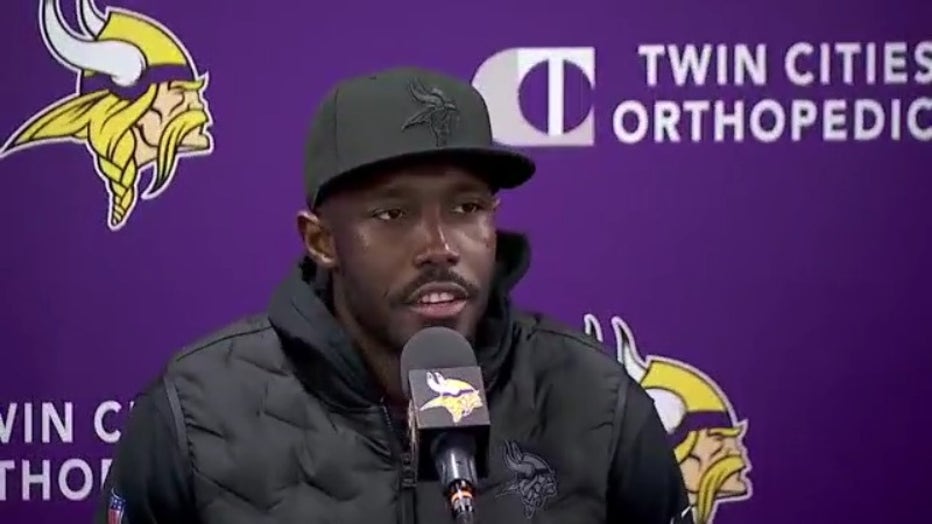 The Vikings enter the April 27 NFL Draft with only five total selections. That's half of what they had in 2022, and all of them saw the field. They'll start with the No. 23 overall pick in the first round, assuming they stay there. They didn't last year, even trading within the NFC North.
The concern going in might be that the Vikings only have two top-100 selections, but Adofo-Mensah doesn't see it that way.
"To me it's not necessarily about the number of picks, it's about the impact of those picks that you have. If you can find an impact player with your first pick, you don't have to trade back to get two players who might not add up to that same impact," Adofo-Mensah.
Mocks have the Vikings all over the board at No. 23. They could go for a receiver to star alongside Justin Jefferson. They could add talent to the defense. Do they take a quarterback with Kirk Cousins under contract one more season, and hope he's the replacement?
"Quarterback is the most important position in our sport. These aren't things you just kind of decide in the moment, you have to have plans, you have to have strategies. We've had these conversations, they're ongoing," Adofo-Mensah. "There's lots of different avenues in terms of addressing that position. It's the most important position in this sport, and we'll treat it with that kind of importance."
Cousins has spent five seasons with the Vikings, and rather than sign him to another long-term extension in the offseason, they re-worked his deal for one more guaranteed season. If 2023 is Cousins' final year in Minnesota, the Vikings could look to the draft for their next potential franchise quarterback.
"Ideally you would like to have that person in that role developing behind a great player like Kirk. I don't think you ever sacrifice it being the right player," O'Connell said. "Regardless of the when, where, why, how, you can't sacrifice that. Because you have to have ultra belief and connection on making that decision."
UPDATES ON ZA'DARIUS SMITH, DALVIN COOK
The Vikings start their offseason workout program next Monday, which last year had nearly full participation under a new front office and coaching staff. The workouts are voluntary, but O'Connell expects a majority of the roster to be in town.
Two question marks are Za'Darius Smith and Dalvin Cook, who each still face uncertain futures with the Vikings. Smith posted what felt like a goodbye message to fans on social media, put his Twin Cities home on the market and reportedly asked for a release to hit free agency, but he's still under contract with the Vikings and recently earned a $5 million salary guarantee. He had 10 sacks in 16 games last year, but just 1.5 over the final 11 games. Smith is due $15.5 million in 2023.
"Ongoing communication with him and his representatives. We try and be solutions-oriented here. He was a great member of our team last year and we'll keep the conversation ongoing," Adofo-Mensah said.
Cook was the subject of trade rumors after the season, which intensified after the Vikings brough back Alexander Mattison in free agency. Cook ran for 1,173 yards and eight touchdowns over 17 games last year, and had surgery in the offseason to repair a shoulder injury that had lingered throughout his career. 
Will he be on the roster in 2023? He's due $14 million this season.
"Conversations are always ongoing with him, we're trying to be solutions-oriented and always trying to put the roster together within our constraints. We'll continue those conversations," Adofo-Mensah said.
Does signing Mattison affect Cook's future in Minnesota?
"I think in theory they could exist. They're different style of backs, they could fit complimentary together for sure," Adofo-Mensah said.