Minnesota United, Allianz Field to host 2022 MLS All-Star Game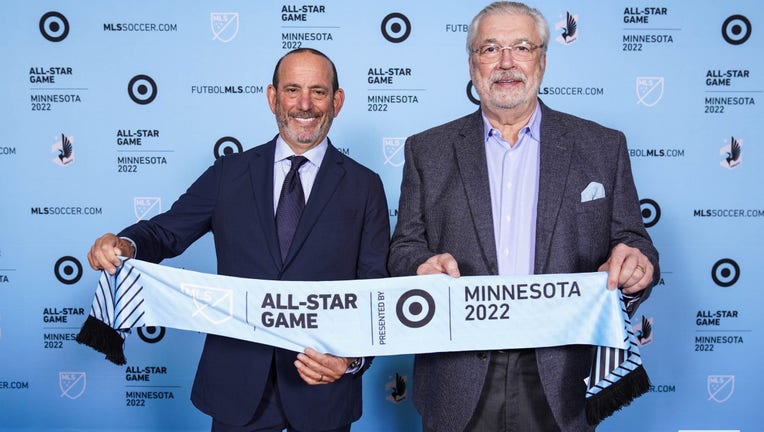 article
MINNEAPOLIS - Minnesota United officials and Major League Soccer Commissioner Don Garber joined forces Tuesday morning to make a "special announcement" official: The MLS All-Star Game is coming to Allianz Field in 2022.
Garber was joined by Loons' owner Bill McGuire, St. Paul Mayor Melvin Carter and Minneapolis Mayor Jacob Frey at a news conference after the Loons held training at Allianz Field in front of media and season-ticket holders. Loons' CEO Chris Wright, who is stepping down after the 2021 season, said earlier this summer it was his expectation that Minnesota would host the All-Star Game in one of the next two years.
More details will be released at a later date, but the game will be played on Aug. 10, 2022.
"There's nothing like what you can see when you watch a game here at Allianz. When I watch them on television or when I've attended events, this is what Major League Soccer was meant to be," Garber said. "It's about awarding an All-Star Game. They're not just awarded, they're earned. It's everything that this team is, it's everything that it represents, it's everything that it feels like in the community that has Minnesota United earning the All-Star Game."
Wright, who will be replaced by Shari Ballard after the season, was one of the leaders in helping get Allianz Field built. The state-of-the-art soccer facility opened in April of 2019, with the Loons playing New York City FC to a 3-3 draw in the first game ever played at the facility. The Loons started playing in MLS in 2017, and spent their first two seasons playing at TCF Bank Stadium.
Allianz Field cost about $250 million to build, which was done completely by private funding. The Loons have had sellout crowds ever since it opened. Carter said he's known the All-Star Game news for about a month, but couldn't say anything.
"It's official, we get another chance to show the world what an incredible facility this is and more importantly, what an incredible community it sits in. That excites me to no end," Carter said.
The vision for the Loons started about a decade ago. In 2015, Garber came to Minneapolis announce that the Twin Cities was getting an MLS franchise. Four years later, Allianz Field became a reality. Now the biggest event in MLS is coming to St. Paul.
"We are all extremely excited and honored to see the premier event for soccer in North America coming to the Twin Cities and our state. This is really a pretty great day for us," McGuire said.
There will be a week of events leading up to next year's MLS All-Star Game, in Minneapolis and St. Paul, with the help of Target as a chief sponsor. MLS will also host an All-Stars Skills Challenge, similar to what other leagues do with their fesitivities.
Minneapolis Mayor Jacob Frey recalled a night eight to nine years ago, a dinner at Butcher Block with McGuire and Minnesota United officials, and the camaraderie and diversity that was at the table. It's more than just a game, it's an investment in community.
"We didn't get the All-Star Game, we earned it," Frey said.
The MLS All-Stars played the 2021 game against All-Stars from Mexico's Liga MX at Los Angeles FC's Banc of America Stadium back in August. 
Allianz Field seats about 19,600 fans, and re-opened to full capacity earlier this summer after having no fans in 2020 due to the COVID-19 pandemic. The Loons' home has already hosted three large soccer events, two CONCACAF Gold Cup matches and a U.S. Women's National Team friendly back in 2019. Allianz Field will also have the USA women hosting South Korea later this month in what will be the final match for Carli Lloyd.