Sports world reacts to Derek Chauvin's conviction in George Floyd's death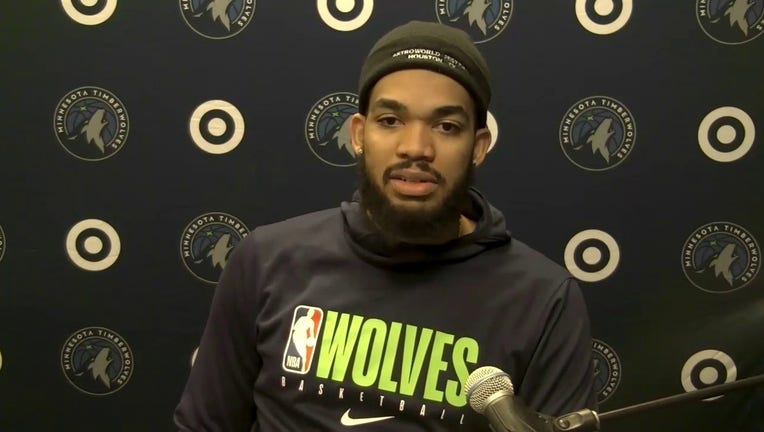 article
MINNEAPOLIS - The entire world was watching Minneapolis and the Hennepin County Courthouse Tuesday afternoon jurors reached a verdict in Derek Chauvin's trial for George Floyd's death last Memorial Day.
Chauvin, a former Minneapolis police officer, was convicted of second and third-degree murder, and second-degree manslaughter in the May 2020 incident outside Cup Foods in south Minneapolis. Jurors took a little more than 10 hours to convict Chauvin of all counts. Floyd died after Minneapolis police responded to a report of a counterfeit $20 bill being passed the store, located at 38th and Chicago. Chauvin, seen on cell phone video taken by bystanders, had his knee on Floyd's neck for more than nine minutes before Floyd lost consciousness and was later pronounced dead at Hennepin County Medical Center.
Immediately after the verdict was read Tuesday, the sports world went to social media to react. The Minnesota Vikings, who have a Social Justice Committee within their own team, released a statement after the verdict.
"The past year following George Floyd's death has been extremely painful for the Minnesota community, particularly for the state's Black residents. While today's decision does not minimize the anguish or solve the intolerable issues of racism and hate, we hope it can mark the beginning of community healing. Now, more than ever, it is crucial to respectfully listen, communicate and engage in order for us to move toward an equitable society," team officials said.
The NFL also reacted to the news Tuesday night.
The Minnesota Timberwolves issued a statement shortly after the verdict.
"One year ago, George Floyd was murdered, causing unimaginable pain and trauma for his family, the Minneapolis community, and communities across the nation. Our deepest thoughts have been with the Floyd family since this unjust tragedy. Throughout our history, racial and social inequalities have been ingrained in our society. We are hopeful that today's decision will serve as a step forward, but it does not ease the physical and emotional pain that continues in an environment where systemic racism exists. To our BIPOC community, the Timberwolves and Lynx remain committed to influencing change, promoting impactful action, and using our platform to help heal and unite in pursuit of liberty and justice FOR ALL," Timberwolves officials said in a statement.
Timberwolves players Karl-Anthony Towns and D'Angelo Russell offered their reactions on Twitter.
NBA star LeBron James posted to Twitter, "ACCOUNTABILITY."
Hours after the verdict was read, the Wolves beat the Sacramento Kings 134-120 for their 16th win after the season. The team dedicated its game ball after to George Floyd's family. After the win, Towns, Russell and Josh Okogie all gave their reaction to Chauvin's conviction.
Okogie - "A lot of people call it justice. To me it's accountability more than anything. For me if justice were really, really served, George Floyd would still be here today. I think the court made the right decisions, and I hope this sets precedence for the other cops around the world who kill innocent minorities. I hope this slows down the amount of shootings that are happening in the world right now. I'm glad that we're taking steps in the right direction."
Towns - "We've seen moments like this so much that go the opposite way that even with how quick the verdict came in, you still have no idea where it's going to go. I was worried, I was worried for our community, I was worried justice wasn't going to be served, I was worried about all the family our team has and wondering if their safety was going to be guaranteed. It was a bittersweet moment that justice was served, but it was served at the cost of a life. I hope today was a step towards reform."
Russell - "Right is right and wrong is wrong at the end of the day. For something like that that takes so long just to come to the light, get an answer with accountability, I think that's a start. Change is happening every day with the awareness that we're bringing."
University of Minnesota football player Brevyn Spann-Ford said, "george floyd did not die in vain. justice."
The Minnesota Wild gathered in small groups Tuesday to watch the verdict on their off day in Arizona. After morning skate on Wednesday ahead of facing the Coyotes, Matt Dumba, an executive member of the Hockey Diversity Alliance, gave his thoughts on Chauvin's conviction.
"Definitely some anxious feelings going into it, just the unknown and just knowing the magnitude of this trial and what could come of it for our city. After seeing it, you're relieved. My condolences still go out to the Floyd family and everything they've gone through in this past year. I hope it gives our community a sense of hope and optimism that we're going to heal the right way," Dumba said. "I don't know if I'd use the word win. We know that things have to change, and this could be a monumental piece of that puzzle moving forward. It's just a testament of what needs to change in our city, and I think the jurors took everything into account and made the right decision for justice. It's sad we had to get to that point."