Minnesota native Chet Holmgren goes No. 2 overall to Oklahoma City in NBA Draft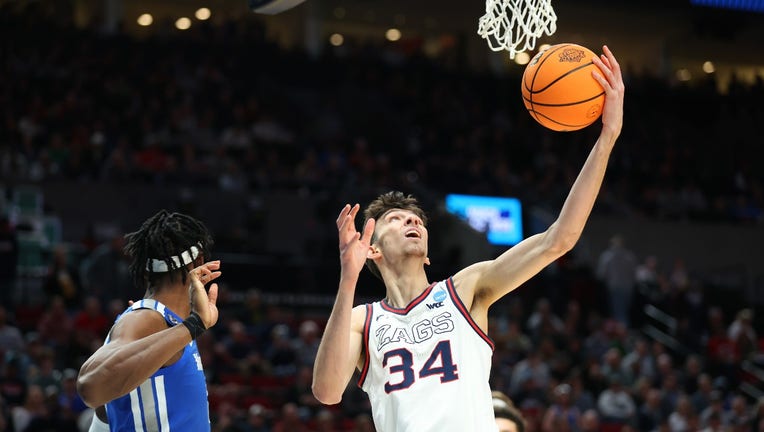 article
MINNEAPOLIS - Chet Holmgren is the latest Minnesota native to become a lottery pick in the NBA Draft.
The former Minnehaha Academy and Gonzaga star went No. 2 overall Thursday night to the Oklahoma City Thunder. Holmgren had a chance to be reunited with former Redhawks' teammate Jalen Suggs, who was drafted last year by the Orlando Magic. But the Magic opted to select Duke guard Paolo Banchero with the No. 1 overall pick.
Holmgren took the stage in a black suit and wore a chain with two dice, one with a No. 3 and the other a No. 4. They represent his jersey No. 34 at Gonzaga. It adds up to 7, which is the number he wore for Team USA last year in winning a gold medal. He talked after shaking hands with NBA Commissioner David Silver about being the No. 2 overall pick.
"Yeah it's a mix of emotions, probably a thousand emotions, all good ones. You know, I don't really have words to describe them, but I'm so blessed and grateful to be able to be here. I'm ready to compete. I'm ready to go play," Holmgren said Thursday night.
Holmgren, a 7-foot, 195-pound center, is a match-up nightmare for most opponents. In 32 games with Gonzaga, he averaged 14.1 points, 9.9 rebounds and 3.7 blocks per game on the way to being a Second Team All-American, a finalist for Defensive Player of the Year and one of 10 semifinalists for the Naismith Trophy.
He can score on the inside, pass out of double teams, shoot from the perimeter and even take defenders off the dribble. He shot 73.7 percent from the floor in one season at Gonzaga, including 39 percent from the perimeter. His defensive presence and ability to block shots also makes him a rim protector. He's been most commonly compared to Kevin Durant.
On ESPN's NBA Draft broadcast Thursday night, Kendrick Perkins said, "If Giannis Antetokounmpo and Kristaps Porzingis had a baby, you get Chet Holmgren."
Holmgren went to Gonzaga as a McDonald's All-American and the No. 1 recruit in the country. His NBA dream is now officially a reality, and he'll call Oklahoma City home.
Holmgren now becomes the earliest Minnesotan ever drafted in the NBA. Kevin McHale was taken No. 3 overall in 1980 by the Boston Celtics.
"I try to live with as few expectations as possible, so I can just completely be in the moment. That's one of the biggest things that I've tried to do today and one of the biggest pieces of advice I've gotten from many different people. Stay in the moment, soak it all in because it goes quick, and you can't relive it," Holmgren said. "I've been 100 percent in the moment going with the flow today, and look where we are."
FORMER BRECK STANDOUT DAVID RODDY HEADS TO GRIZZLIES WITH NO. 23 PICK
Minneapolis native David Roddy realized his NBA dream Thursday night, being taken with the No. 23 overall pick by the Memphis Grizzlies.
Roddy was a star athlete at Breck High School in Golden Valley before going onto a successful career at Colorado State. Roddy was the Mountain West Player of the year last season averaging 19.2 points, 7.5 rebounds and 2.9 assists per game. He's a 6-6, 255-pound forward who has been compared to Charles Barkley.
In high school, Roddy was a football and basketball standout, and participated in discus and shot put in track and field.
FORMER EAST RIDGE STANDOUT KENDALL BROWN HEADS TO PACERS WITH NO. 48 PICK
Former East Ridge star Kendall Brown was taken with the No. 48 overall pick in the second round, and is headed to the Indiana Pacers after a trade with the Timberwolves.
"It feels great. It's just a relief to be able to be drafted to the NBA and just have the opportunity to show what I can do," Brown said.
The 6-8, 205-pound guard played one season at Baylor and was named to the All-Big 12 Freshman Team. He helped lead the players to a No. 1 seed in the NCAA Tournament after averaging 9.7 points and 4.9 rebounds per game in 34 starts.
This year marks the third straight that Minnesota has had multiple players taken in the NBA Draft. The state has now had 12 selected since 2015.