Gophers have mistake-filled first half in 20-10 Homecoming loss to Purdue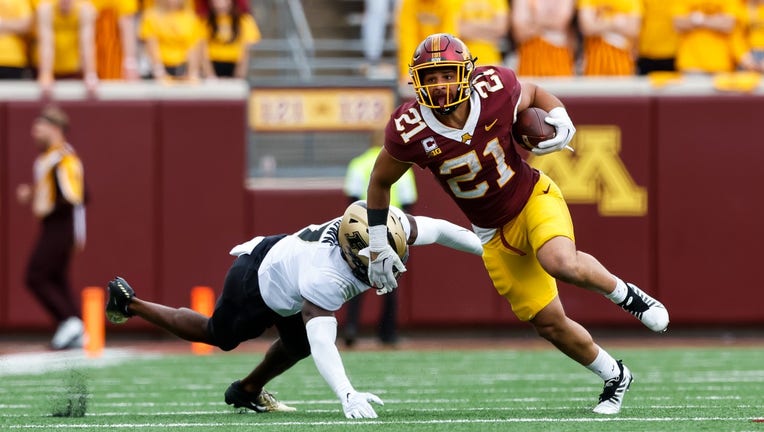 MINNEAPOLIS - PJ Fleck centers the University of Minnesota football program around responding to adversity and winning one-game championship seasons. After four blowout wins to start the season, the Gophers are now staring real adversity in the face. 
As Fleck said after the Gophers suffered a 20-10 Homecoming loss to Purdue on Saturday in front of more than 48,000 fans at Huntington Bank Stadium, "Here it is." Minnesota entered the game having beaten its first four opponents by a combined 183-24, and ranked nationally for the first time in nearly two years. Now, they head into their bye week off their first loss of the season and missed a chance to grab firm control of the Big Ten West.
The Gophers learned before the game they would be without top running back Mo Ibrahim, despite practicing most of the week and fully participating in pregame warm-ups. Without him, Minnesota ran 22 times for just 47 yards, 1.8 yards per carry. Bryce Williams had 11 carries for just 35 yards and Trey Potts had nine carries for 10 yards. Tanner Morgan threw three interceptions, and was sacked twice.
Minnesota's starting defense gave up its first touchdown of the year on Purdue's opening drive, then a back-breaking score in the fourth quarter as the Boilermakers sealed the win. Fleck and players said after the team didn't execute the game plan to their standard. The Gophers had the No. 1 total defense and No. 3 total offense in the country going into the game. Neither met that standard against Purdue.
"We didn't play well enough to win tonight, we didn't deserve to win tonight and I believe in life, you get what you deserve. When we're not playing complementary football, that's what it looks like," Fleck said after the loss.
Ibrahim appeared to injure his left ankle in last week's win at Michigan State. Fleck said he was close to playing Saturday, but after going through warm-ups in full pads, Ibrahim stood and watched the loss from the sideline. He entered the game second in the nation in rushing, at 141.8 yards per game.
He leads the Gophers with 578 yards and eight touchdowns through four games.
"We're always going to keep our players safe. I listen to our medical people and they've got Mo's bests interests, period. Not just winning a football game. He's one of the best tailbacks in the country, so if I say that missing him doesn't hurt, I'd be lying to you," Fleck said. "But we've got to be way better. We didn't block very well up front."
The Gophers trailed 10-3 after a first half filled with self-inflicted mistakes. Matthew Trickett missed a short field goal, Fleck went for it on a 4th-and-1 inside their own territory that got stuffed and Morgan had two interceptions. One of them was a throw that hit Michael Brown-Stephens in the chest in the end zone, and should've been a touchdown.
"That is not how we've played the last month, but it's how we played tonight. We just couldn't find our groove, and that falls on my shoulders," Fleck said.
The Gophers were just 4-of-13 on third down Saturday, and 0-for-1 on fourth down.
"I don't think I played well enough, clearly, and that doesn't allow you to stay ahead of the sticks. I have to be better for sure to give us a better chance to be successful," Morgan said.
Minnesota's defense forced Purdue into three second quarter turnovers, but the Gophers could only turn them into three points. It was a day of missed opportunities, with Wisconsin losing at home to Illinois and Iowa losing at home to Michigan.
Minnesota's defense hadn't allowed a 100-yard rusher in a game this season. Saturday, Mockobee and Dylan Downing combined for 144 yards and two touchdowns.
"What we have in mind and our goal as a team is still in front of us. Our response is going to be huge and critical moving forward," linebacker Mariano Sori-Marin said.
The Gophers' only touchdown of the day came on a 2-yard run from Williams, tying the score at 10-10 with 8:06 to play in the third quarter. Purdue took a 13-10 lead with 4:57 to play, then got a 68-yard run from Devin Mockobee before he sealed the win with a 2-yard touchdown run with 3:13 to play.
The Gophers entered the game running for nearly 295 yards per game. Without Ibrahim and with the offensive line struggling? They put up 47 yards.
Fleck's message to his team after their first loss, following four dominating performances? "Everything is in front of us."
Minnesota heads to Illinois after its bye week, a team on the rise after beating Wisconsin 34-10 in Madison on Saturday. Then a date at Penn State. The Gophers hope is Saturday's loss is an early learning lesson that will help them down the road.
"Everything is in front of us. I love this football team. We didn't play complementary football tonight. What you saw the first four weeks was complementary football, and that's when we're at our best. When you don't have that, that's what it looks like and it was a fight the entire night," Fleck said. "My message to them is that everything is still in front of us. We got beat tonight, and we're going to learn from it."