How to watch Minnesota Aurora vs. Indy Eleven in the USL-W Central Conference final
EAGAN, Minn. (FOX 9) - Minnesota Aurora will play Indy Eleven in the USL-W Central Conference final on Saturday at 2 p.m. — a game you can watch for free and over-the-air on FOX 9+. 
The winner of Saturday's match will earn a spot in the USL-W semifinals. 
Minnesota Aurora opened the USL-W Playoffs with a 1-0 win over Chicago City SC on Thursday at Atwood Stadium in Flint, Michigan. The lone goal of the game was on a penalty kick from Ari DelMoral in the 23rd minute. Aurora out-shot Chicago 28-0 for the game.
Minnesota Aurora and Indy Eleven have some history. Aurora beat Indy 2-1 in last year's USL-W Quarterfinals in front of a near sellout crowd of about 6,200 fans at TCO Stadium.
Minnesota Aurora FC won its second straight Heartland Division title this summer with a 12-0 regular season, and led all of USL-W in scoring with 60 goals. It was also tops in the league with a plus-56 goal differential. Indy Eleven earned a share of the Valley Division title this year with an 8-1-1 record, and scored 40 goals while allowing just three.
Indy Eleven beat Flint City AFC 3-0 on Thursday to advance to face Minnesota Aurora.
Saturday's match is scheduled for 2 p.m. in Flint, Michigan. You can watch it on FOX 9+, as well as streaming live in the player above, on FOX9.com, the FOX 9 app, and the FOX LOCAL connected TV app.
FOX 9+ is available over-the-air on channel 9.2, as well as on Comcast 10/807, DirecTV 29, Dish 29, Mediacom 10/803 and Spectrum 10.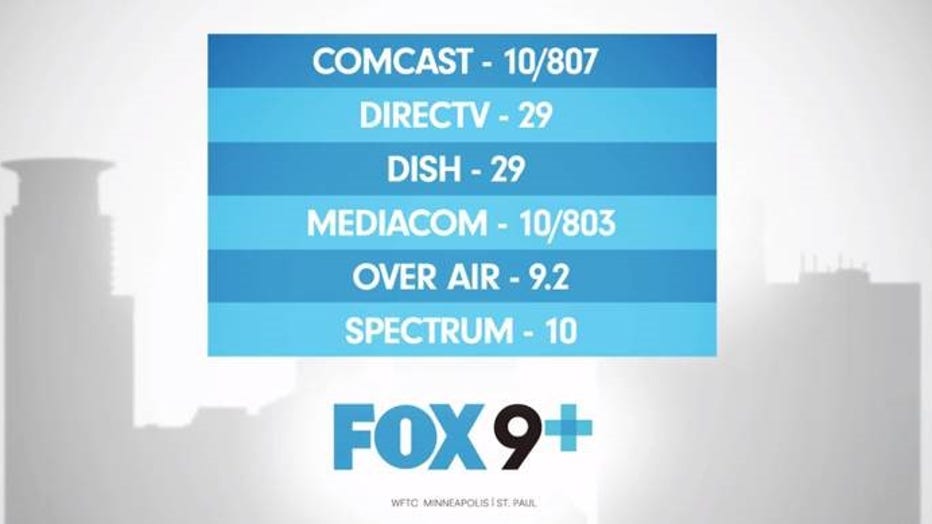 How to watch FOX 9+. (FOX 9)