Historic day for Minnesota Aurora FC ends in 1-1 draw with Green Bay Glory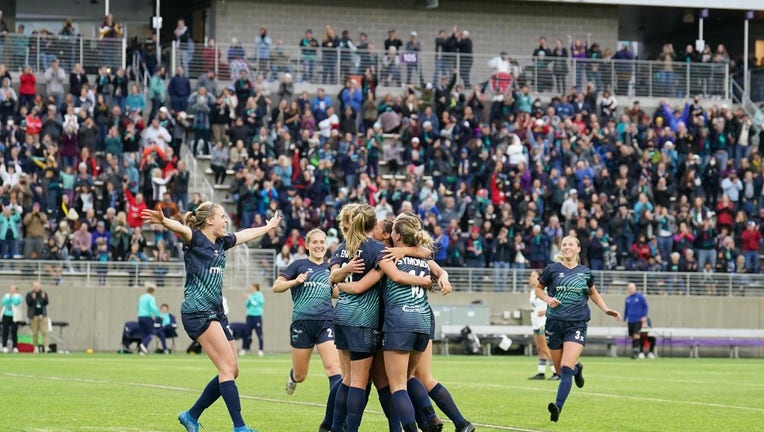 article
MINNEAPOLIS - A moment nearly a year in the making became a reality Thursday night at TCO Stadium in Eagan as Minnesota Aurora FC took the pitch for the first time in franchise history.
It became official in January that Minnesota Aurora would join USL W as a pre-professional women's soccer team, after plans started formulating for the team in June of 2021. Minnesota is a community-owned team, with more than 3,000 Twin Cities residents serving as owners who have combined to contribute $1 million to get the franchise up and running.
Thursday night marked the Aurora's home opener, at the home of the Minnesota Vikings practice facility, in front of a sellout crowd of 5,600 fans. It's the first of five home games for Minnesota Aurora FC in its inaugural season.
A historic night finished with celebration, despite Minnesota Aurora playing to a 1-1 draw with Green Bay Glory.
"It feels good, a little gut-wrenching giving up the lead with five minutes left there. But it was a very exciting night, we're very fortunate to be here at TCO Stadium with the community behind us," Minnesota Aurora coach Nicole Lukic said. "It was incredible. Just such a professional atmosphere and I know our players absolutely loved it."
The first goal in franchise history came from Shelby Hopeau in the 54th minute. After a Green Bay yellow card, Hopeau fired a shot from 25 yards out that found the back of the net after a misplay by the keeper. It was initially declared an own goal, but later given to Hopeau. Maya Hansen nearly got it in the first half, but had a shot hit the post in the 18th minute.
Hopeau flew in from Hawaii just three days ago, and said after the game she knew she had to fight for a spot on the team. She was going to come out swinging.
"A keeper mistake, but I'm going to take it anyway. It was my goal. I was like please go in, please go in God. Help me. Exciting, I feel very blessed," Hopeau said.
"It wasn't pretty but we'll take it, especially with Shelby. She just got here three days ago from Hawaii. Big moment for her to get subbed in the game and an even bigger moment for her to score the first goal in franchise history," Lukic said.
The Glory got the equalizer in the 89th minute, with a perfect header from Laura Linares past Sarah Fuller after a cross.
It was a celebratory night for women's soccer in Minnesota, with the only thing missing being a victory to start the season.
Minnesota Aurora features a roster of 26 players, 12 from Minnesota with athletes playing college soccer, some out of college and looking for their next opportunity and even at least one high school athlete. The roster includes players from seven different states, as well as Japan and South Korea, and ranges in age from 16 to 25.
"We're so excited to have pre-professional soccer here. The Minnesota community is coming out tonight to celebrate these amazing women playing the game," USL W President Amanda Vandervort said. "It's unbelievable, women's soccer, we have the wind in our sails right now. To see it come to life here with this club in this community-led organization is something we're really proud of."
Minnesota Aurora FC unveiled its first uniforms at the Mall of America in April, and started practicing earlier this month at TCO Stadium.
Minnesota Aurora FC heads to Kaw Valley in Kansas for its second match next week.