Lynx preparing for WNBA Draft without Maya Moore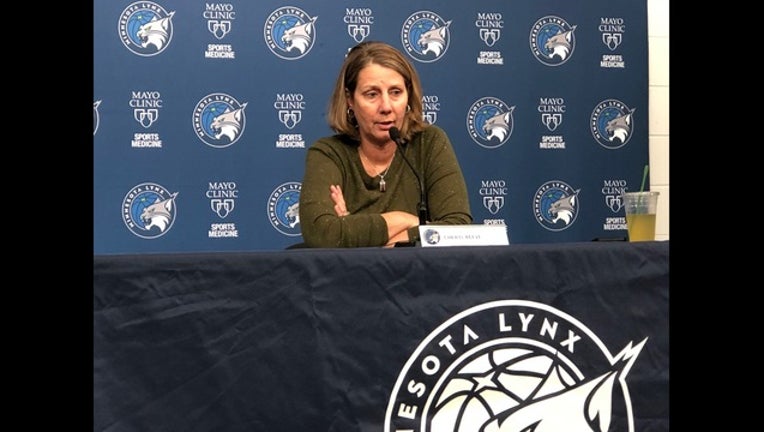 MINNEAPOLIS (FOX 9) - The Minnesota Lynx are going to have a vastly different look in 2019, and part of that process starts Wednesday night with the WNBA Draft.
The Lynx are coming off an 18-16 season and a first round exit from the WNBA Playoffs. That's after reaching the finals three straight years, and winning two championships.
But everything changed in the offseason when Maya Moore decided to step away from basketball. She's taking the year off to focus on her family and her work in ministry. You can't replace Moore, who's been a transformational player for Minnesota.
Coach Cheryl Reeve will also be without Lindsay Whalen, who retired from her playing career to focus on head coaching duties at the University of Minnesota.
The Lynx will have five draft picks Wednesday night, the most they've had since 2012, when they had six draft choices. It starts with the No. 6 pick in the first round. So what type of player can they get with that pick? They won't know until the draft starts Wednesday night but Reeve said there isn't a generational player, like Moore, to choose from.
"We think it has some really good players that with improvement, can they reach the upper level, just below the elites and we think that's possible. It's debatable how many of those you think there are," Reeve said. "Any time you're picking six, you think there's five. We're going to have to get lucky to maybe get one of those."
The Lynx also have the fourth, sixth and eighth picks in the second round of the draft, and the sixth pick in the third round. But Reeve was hesitant to say the Lynx would try to package any picks in discussions with other teams to move up in the draft.
Teams haven't willingly answered the phone for trade conversations, and when they have, the talks have been short. That's what happens when you're a perennial WNBA power, led by Moore, one of the best professional players ever.
Reeve understands the resistance comes with the territory.
"We're the Minnesota Lynx and that means no one answers our calls. I have found out how deep that runs. We had a call with a team that at least took the call, and said 'Why on Earth would we help you?' That's what we get," Reeve said. "Yeah we'd love to move up, you have to have assets to do that and when you're us, you have to overpay to do that."
Reeve is also preparing to not have forward Rebekkah Brunson when Lynx training camp starts next month. She battled a concussion toward the end of last season, and is focusing on family duties this offseason after her wife had a baby boy.
Reeve said Brunson has communicated that she wants to play for the Lynx this season. She averaged 7.2 points and 6.8 rebounds per game last season in 25 games, playing more than 27 minutes per game.
"At this point we're not expecting her to be back at the start of Training Camp. We're just going to kind of see if she can't get herself back to a place where she can play," Reeve said. "She would like to play again and of course we would like her to play for us. Right now you have to plan in a way that she's not there."
So who will the Lynx take at No. 6? It depends on who is available. Most WNBA mock drafts have the Lynx selecting Notre Dame guard Arike Ogunbowale. She's 5-8 and averaged more than 21 points, nearly five rebounds and four assists per game.
The Lynx will be looking for scoring with Moore not playing this year. Moore averaged 18 points per game last season and was one of the top perimeter threats.
It's about filling needs and finding the best players available in the spots they're in. Make no mistake, the Lynx will look much different this season.
"Really you could point to every single position and say you could use a good player there. We're going to fill the need for sure, and in our case we have more than one need," Reeve said.