Karl-Anthony Towns selected to 2nd All-Star Game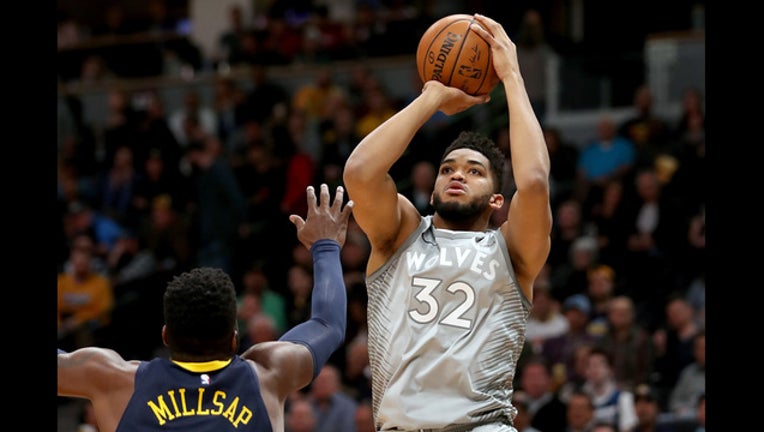 MINNEAPOLIS (FOX 9) - For the second straight year, Karl-Anthony Towns is headed to the NBA All-Star Game.
The NBA announced Thursday that Towns is a reserve for the Western Conference. The Minnesota Timberwolves forward was fresh off his overtime game-winner from the baseline Wednesday night as the Timberwolves beat the Memphis Grizzlies 99-97.
Towns finished the night with 16 points and 10 rebounds. In a turbulent season that's featured a coaching change, Towns has been the closest thing to consistency for the Timberwolves. He said earlier this week he's just trying to find ways to win.
"That's all I'm doing on a nightly basis. Being the best I can be out there and giving ourselves a chance to win," Towns said.
He's taken over as the Timberwolves leader as they've gone 6-5 since Tom Thibodeau was fired and Ryan Saunders took over as interim coach. Towns has started 297 straight games, and in 51 games this season, he's averaging 22.6 points and 12.1 rebounds.
He's currently 16th in the NBA in scoring, ninth in rebounds and blocked shots.
"He's getting numbers with double (teams) and sometimes basically 2.5 guys guarding him where you have a double team, plus a guy that's digging to try to knock the ball loose. He's still able to put up numbers so he should be an All-Star," Saunders said.
In his last 18 games, Towns is averaging 25.8 points, 13.5 rebounds, four assists and 2.11 blocks. Earlier this month, Towns scored 27 points and grabbed 27 rebounds in a win over the New Orleans Pelicans. He also had his third career 30-point, 20-rebound game last November with 35 points and 23 rebounds in a win at Chicago.
His teammates have noticed his effort for most of the season.
"He's been doing the things that he needs to do for our team. He's been helping us in so many different ways. It would be a good thing to see because I know he wants to be an All-Star really bad," forward Taj Gibson said before it was official that Towns became an All-Star.
Two Timberwolves that won't be at the All-Star Game? Andrew Wiggins and Derrick Rose. Neither were selected as reserves, and Rose was in contention in voting until missing the last three games with an ankle injury suffered in a win at the L.A. Lakers on Jan. 24.
The Timberwolves are 25-26 as they host the Denver Nuggets Saturday night. They're three games out of the No. 8 spot in the Western Conference playoffs.
Towns scored 17 points and grabbed 10 rebounds in his first All-Star Game last year. This year's All-Star Game is set for Feb. 17 in Charlotte, North Carolina.