Joe Mauer voted into Minnesota Twins Hall of Fame 2023 class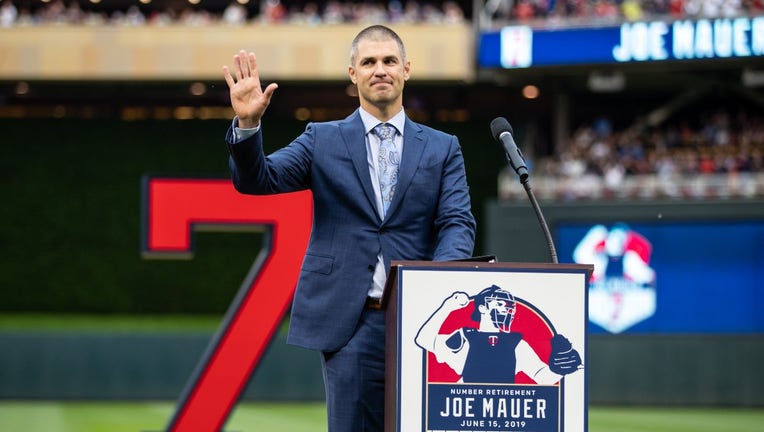 article
MINNEAPOLIS - The Minnesota Twins announced Friday, with TwinsFest this weekend at Target Field, that legendary catcher Joe Mauer will be the next member to be elected to the Twins Hall of Fame.
It'll become official with a pregame ceremony on Aug. 5, before the Twins host the Arizona Diamondbacks at Target Field. He'll become the 38th member of the Twins Hall of Fame, which honors players, managers, coaches and personnel since the organization started in Major League Baseball in 1961.
Justin Morneau was inducted in 2021, and Ron Gardenhire and Dan Gladden became members last season.
"Few players are as synonymous with Minnesota Twins baseball than Joe Mauer," Twins President & CEO Dave St. Peter said in a statement. "Joe's incredible on-field career has been well documented while his impact on our community, state and region has been heartfelt and powerful. We are truly proud to see Joe inducted into the Twins Hall of Fame and believe it's the next step to his eventual induction into the National Baseball Hall of Fame in Cooperstown, NY."
Mauer got the news a few weeks ago in a phone call from Rod Carew. It's been a tough time for Mauer, who lost his father, Jake. His funeral services were held on Wednesday.
Mauer, a St. Paul native, leads the Twins all-time in doubles (428), times on base (3,087), is second in games played (1,858), hits (21,23), walks (939) and at-bats. Mauer is also third in runs scored (1,018), total bases, fifth in RBI (923) and 12th with 143 career home runs.
Mauer's No. 7 jersey was retired by the Twins in June of 2019, making him one of nine players or managers to have a number retired. He's the only catcher to have the honor.
"That's special on a whole host of levels. I came here at the end of 2016, obviously I had watched Joe Mauer for a long time. What I got to know about Joe, I know the player, I know the back of the baseball card, that's often driving why he's going into the Hall of Fame," Twins Chief Baseball Officer Derek Falvey said. "But all the other aspects that you get to know about Joe, the person, the father, the husband. Knowing the whole human being and what he represents and how he represents this region, I hope this is an honor that reflects all of that."
Mauer was the No. 1 overall pick by the Twins in 2001, and played all 15 MLB seasons with the Twins. He hit .306 for his career and spent his first nine seasons primarily as a catcher, playing 921 of his 1,858 career games behind the plate. He won the American League MVP award in 2009, was an AL All-Star six times, won three Gold Glove awards and is the only catcher in MLB history to win the batting title three times.
"Having been around him and getting to know him has been a wonderful thing over the last four years for me. I also came in having played against him a lot on the field, so coming in with the utmost respect for him and then actually seeing first-hand that everything you thought about a guy is true and even mores," Twins manager Rocco Baldelli said. "He's been a phenomenal member of the baseball community and this community for decades. The history he has here, there's not much like it. It's very, very special for everyone to watch all of his successes. I firmly believe a baseball Hall-of-Famer not too long from now."
St. Peter made the announcement Friday at a luncheon for media, before TwinsFest starts this weekend. Twins pitchers and catchers report to Spring Training in Fort Myers, Fla., in mid-February.
"In my mind this is just a pit stop Hall of Fame induction for Joe on his way to Cooperstown," St. Peter said.