'I cried, it was so much emotion': Gophers gymnast Lexy Ramler talks about her Perfect 10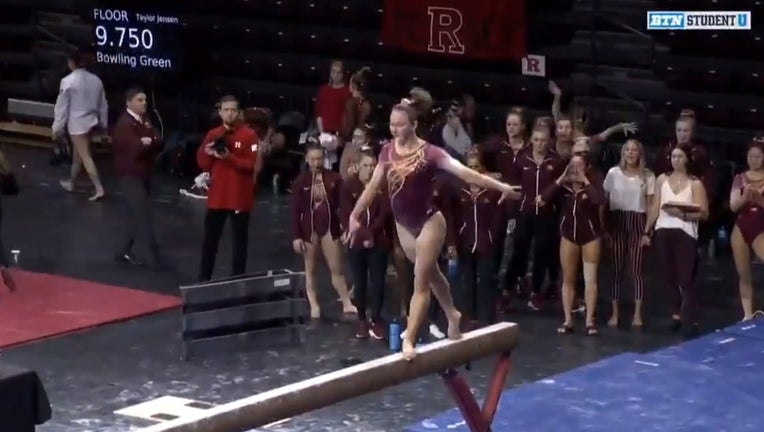 MINNEAPOLIS (FOX 9) - The moment was years in the making, but it finally came to life for Lexy Ramler of the Gopher women's gymastics team last weekend.
In a four-team meet at Rutgers, Ramler was the last athlete to take the balance beam. The roughly one-minute routine was perfect, including Ramler hitting the landing without flinching or moving. With her teammates behind her waiting in anticipation, everyone exploded when the Perfect 10 score appeared.
Her first ever, and the third for the Gophers in the past five seasons. The routine went national Saturday night, appearing as the No. 8 highlight on ESPN SportsCenter's top 10.
They couldn't celebrate too long, they still had two events to go in the meet. Ramler was named the Big Ten Gymnast of the Week for the performance. She was also last year's individual all-around runner-up at the NCAA Championships.
Fox 9's Jeff Wald caught up with Ramler, a St. Michael native and Winona High School graduate, this week as she looked back on her historic night.
What was that moment like when you finish your routine, stuck the landing and got that score?
It was pretty incredible because we were going through the whole beam lineup, and the beam lineup was just flawless. I went up there and I was really nervous because I was like everybody else did their job, they had fun. So I was able to go up there and just be in the moment. Kind of going through the routine I was like this could be the one, but gotta stay in the moment. When I landed that dismount, it was just absolutely incredible to know that, I was like that was really good. To finally see those scores flash around, that was pretty cool and have all my teammates run and hug me, very cool.
What was it like to be seen on SportsCenter's Top 10?
That was really cool as well. It was kind of surprising, I wasn't expecting that. So yeah, very cool.
A perfect 10 doesn't happen very often. What was the most exciting part about the whole experience?
The best moment of that experience was just being there with my teammates. Having their support, and them just being so excited with me, that's probably the best part.
What does it take to get a perfect 10?
I've been working for a few years to get that perfect 10. Every single day I come here and do every routine like it's going to be that perfect 10. It takes a long time and a lot of focus.
What does it take to have a perfect balance beam routine?
Honestly, not thinking too much about it. You can't think about that it's four feet up and four inches across. You just have to go out there, enjoy it and focus on one thing at a time.
What was the first thing that went through your head when you stuck the landing?
This could be the one. Just being so proud of how far I've come. To finally see that moment that this is actually a perfect 10, it was a perfect routine. I've been fighting and working for this for all these years. I cried, it was so much emotion.
What do you do to get yourself ready for meets? Do you have superstitions?
I don't really have a lot. I really try to focus on just being in the moment. So I would say with that, making sure that I'm here and got my game face on.
What's the overall biggest strength of this team?
I think the biggest strength of this team is we're really just one team. We're united, we all have one goal and that's just the culture that we've built here. We're really excited to just continue the season.
You're a Minnesotan born and raised. What motivated you to be a Golden Gopher?
I went to Winona when I was younger in my club years. So I really wanted to be close to home, and they have a great education system here, and that's why I chose here, as well as the coaches and the culture. Coming here, really seeing all these things that they promised come to life. To do it at the U, not only as an athlete, but as a person, academics are great. The culture here is just absolutely great.
What's it like to be a part of a program that's No. 6 in the country right now?
It's pretty cool. We've been working for it for a few years. It doesn't happen overnight, so to see that progress pay off now is pretty cool.
Where can this team go this year?
We're going to see how far we can go. We've been working really hard this whole preseason and just continue to do what we've been doing.
The No. 6-ranked Gophers host Illinois Saturday night in their home opener at Maturi Pavilion, their annual "Always Dreaming" meet. They're asking fans coming to bring donations for the University of Minnesota Masonic Children's Hospital.