Survive and advance: Gophers beat Northwestern 51-46 at Big Ten Tournament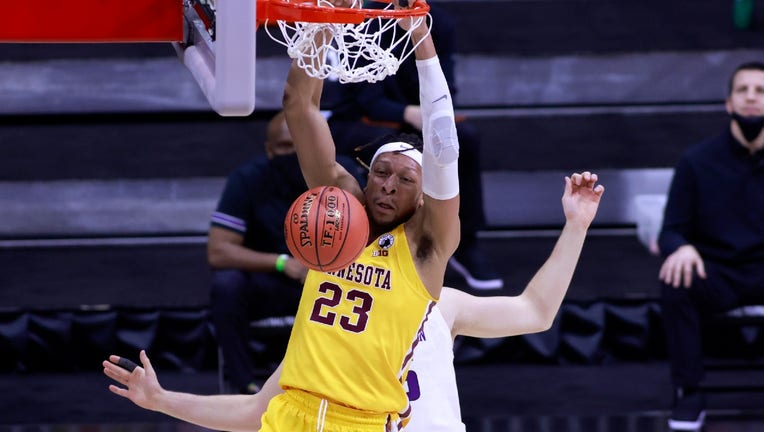 article
MINNEAPOLIS - The college basketball conference tournament season, the week leading up to Selection Sunday, is all about survive and advance.
The University of Minnesota men's basketball team did just that Wednesday night in a 51-46 win over Northwestern in the opening round of the Big Ten Tournament at Lucas Oil Stadium. While coach Richard Pitino remains on the hot seat, the Gophers ended a seven-game losing streak, got their first win away from Williams Arena and advance to face Ohio State Thursday afternoon.
It was far from pretty. The Gophers (14-14) committed 17 turnovers, shot just 36.7 percent from the field and a season-worst 10-of-24 from the free-throw line. It's their second-lowest scoring total of the season, and lowest in a victory.
Regardless, Minnesota lives to fight another day.
"We're not going to be a masterpiece by any means right now just because we're down so many guys. You're going to have to win ugly like that, we did that," Pitino said after the win.
Minnesota got out to an early 16-2 lead as Northwestern started an ice cold 1-of-14 from the field. The Wildcats chipped away at the deficit, and tied the game 38-38 with nine minutes to play. Northwestern used a 15-3 run to lead 46-39 with four minutes to play.
The Gophers' season, and Pitino's future, hung in the balance. Minnesota ended the game on a 12-0 run, as Northwestern didn't score in the final 4:30. When the two teams met back on Feb. 25 at Williams Arena, the Gophers got out to a 17-3 lead only to lose 67-59.
"The season could be over. Once you get that sense of urgency that the season could be over, this could be the guys last time on the court, it's a different atmosphere of how you play. All the negativity about our team, this and that, we're just trying to go on a run. The main thing we did was stay positive," Jamal Mashburn Jr. said.
Pitino said there wasn't a magical speech to his team with four minutes to play, down seven points. They hit a few big shots, and got defensive stops.
"It's March, win or go home. You don't want it to end, so that was really it. It wasn't all that prophetic by any means," Pitino said.
Marcus Carr struggled offensively, finishing with 10 points on 3-of-10 shooting and going 0-4 from the perimeter. But the All-Big Ten pick showed up when it mattered, scoring eight points in the final four minutes, putting the Gophers back in front and keeping the season alive at least one more day.
"We don't want it to end, we just want to go out, go on a run, make this special. I just knew I had to come through," Carr said.
Tre Williams led three Gophers in double figures with 14 points, shooting 4-of-7 from the perimeter. Jamal Mashburn added 11 points, and Carr had five assists and six rebounds despite committing six turnovers to go along with his 10 points. Eric Curry grabbed a career-high 12 rebounds in 34 minutes, and Brandon Johnson added five points and 10 rebounds.
The Gophers forced Northwestern into 14 turnovers, and limited the Wildcats to 31 percent shooting, including 5-of-18 from the perimeter.
Minnesota is without Liam Robbins due to a bad ankle. Gabe Kalscheur is out with a broken bone on his shooting hand. Johnson is gutting through a bad ankle, and Both Gach is playing through a foot injury. The Gophers are beat up and Wednesday's win wasn't pretty, but they don't care.
"At the end of the day, the way that our team is right now, we're going to have to win games ugly. We're going to have to fight, claw, scratch things out. That's what we were able to do today," Carr said.