Gophers Stephanie Samedy named National Player of the Week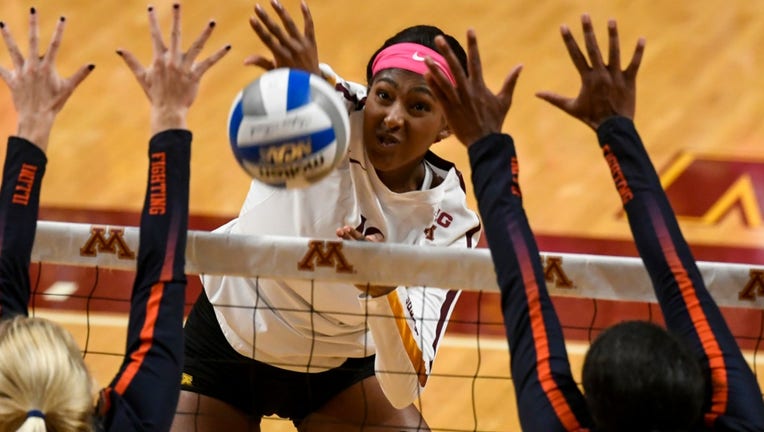 article
MINNEAPOLIS - The University of Minnesota volleyball team is off to a 6-0 start, is one of the top teams in the country and Stephanie Samedy is collecting some honors this week.
On Monday, Samedy was named the Big Ten Player of the Week after helping lead the Gophers to a pair of 5-set victories at Purdue last weekend. Wednesday, Samedy was named the American Volleyball Coaches Association National Player of the Week.
The senior opposite hitter had 48 kills, and averaged 4.8 kills per set in a pair of wins at No. 13-ranked Purdue. In 112 attempts, Samedy hit .313 over the two matches. She also had 36 digs, and seven blocks.
"It's really cool to be recognized and it's appreciated. It's also super cool to see my teammates succeed and to see how their hard work is paying off. It's a cool feeling," Samedy said.
What was coach Hugh McCutcheon most impressed by after sweeping Purdue? Getting taken to the brink of five sets in consecutive matches, and answering the bell both times.
"I thought it was big time. You never learn to sail the ocean by digging around in the harbor, right? You've got to get into trouble at some point and see what happens. I thought it was impressive," McCutcheon said.
Samedy had 28 kills and 26 digs in last Friday's 5-set win, becoming the first player in more than a decade to put up those numbers. She added 24 kills, including five in the fifth set, and 10 digs in Saturday's win. Samedy has 91 kills in six matches.
It's her third time earning National Player of the Week.
"She's had some really special performances and maybe the thing that was special about this one is that it felt pretty standard. That's how she's been in practice," McCutcheon said. "Her game has really elevated over the course of the last year, I think there's probably some more of that to come."
Freshman Melani Shaffmaster was named the Big Ten Setter of the Week after collecting 113 assists in two wins at Purdue. She had 60 set assists on Friday, and added 12 digs. Shaffmaster had another double-double Saturday with 53 assists and 15 digs, adding three blocks and three kills. Shaffmaster assisted on 12 of the 14 kills in Saturday's decisive fifth set.
She has 212 set assists in six matches this season.
The No. 5-ranked Gophers host No. 8-ranked Penn State this weekend at Maturi Pavilion.