Gophers have bigger things in mind after winning Big Ten regular season title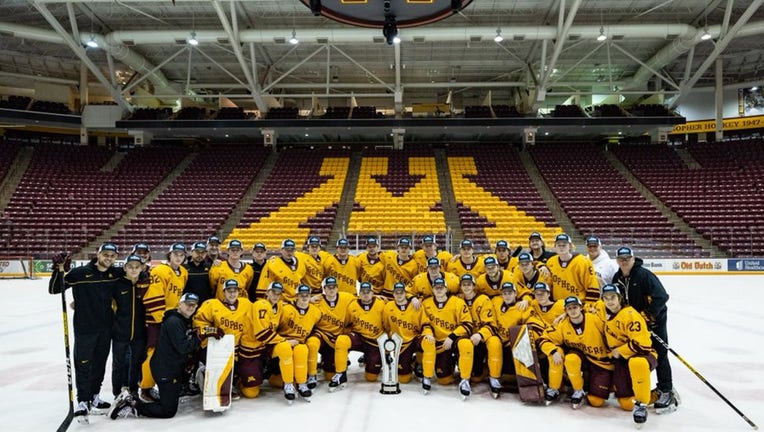 article
MINNEAPOLIS (FOX 9) - The University of Minnesota men's hockey team reported to 3M Arena at Mariucci for practice on Monday, and players knew something might be up.
They were told to put on their yellow socks, typically worn just for games. Players went out on the ice, and there was the trophy for the Big Ten regular season championship, their second straight and sixth overall. It's just one step in the process of the season, as they hope to be holding another trophy in early April.
"I was surprised, I don't know if anybody knew what was going on. I've never even touched one of those things and the trophy was in the locker room the other day. I picked it up, it was kind of heavy, I was a little surprised by it," goalie Justen Close said. "It's nice to check those things off the list and earn those accolades as a team. We had a great regular season and it's nice to celebrate that, but we've got bigger goals and we've got bigger aspirations going forward. Just a check mark along the road if you will."
The Gophers were at Penn State last weekend, but clinched a conference title before ever going on the ice against the Nittany Lions after Ohio State beat Michigan on Thursday night. If there were any fears of a mental letdown, they were put to bed fairly fast in a 7-2 win over Penn State Friday night.
They needed overtime Saturday to complete a sweep of the Nittany Lions with a 3-2 win. Matthew Knies scored the game-tying and winning goals.
Gophers coach Bob Motzko said there wasn't much talk about winning the Big Ten ahead of the series. There are bigger things to play for.
"We still had four games to go in league play and that's all we talk about. I think it's more of a media question that you already had it wrapped up, I don't think we think that way as a group, and we sure guarded against it," Motzko said. "We're playing for the NCAA, we call it 'Banner Season.' It was more important we had two games to play, guys want to play hockey games."
The Gophers head into their final regular season series against Ohio State 23-8-1, 17-4-1 in the Big Ten and No. 1 in the PairWise Rankings. The Gophers will honor their nine seniors Saturday night in front of what's expected to be a sellout crowd, and families will get to go on the ice with players after the game.
They also want to finish the season strong against the Buckeyes after a split earlier this season, and leave no doubt about their NCAA Tournament seeding.
"The senior group has been awful special for us. They've been part of this whole building process that we've gone through, but they know there's more. They're going to enjoy it with their families after the game on Saturday and it's a moment for us to tip our cap to that group. But they know that we've got some important things in front of us that they're very focused on," Motzko said.
They have the comfort of knowing Saturday isn't their last home game. They'll have home ice in the Big Ten Tournament after a first round bye. The Gophers have had seven sellouts this season, and there will be more before the season is over.
"Our fans have been unbelievable, our student section has been so good this year. It's kind of special when everyone wants to come play here now because of how good our fans have been," forward Bryce Brodzinski said.