Gophers: Gold beats Maroon 36-34 in Spring Game behind explosive plays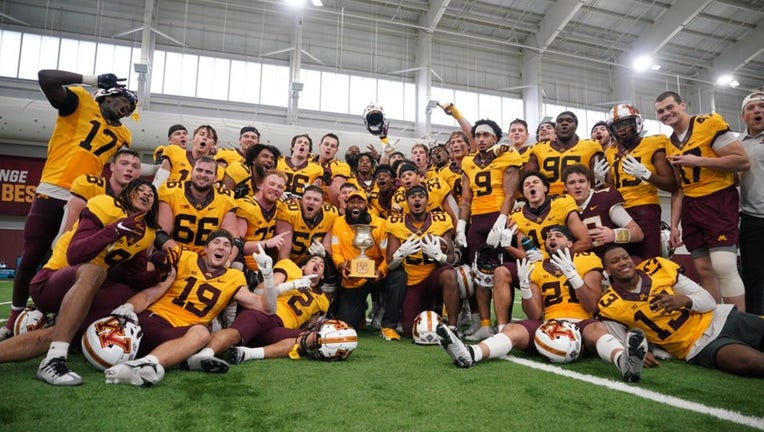 article
MINNEAPOLIS (FOX 9) - The University of Minnesota football team ended is spring season on Saturday with its annual scrimmage, moved inside after a week of tough weather around the Twin Cities.
The Gophers had 15 practices, and it was the last look PJ Fleck and company had at the team until fall camp starts in August. Last year, Fleck had his kickers decide the game to get in under the two-hour window broadcast on Big Ten Network. This year? A Zach Evans two-point conversion gave Gold a 36-34 win over Maroon. 
"If you want a football game in under two hours, hire me as your coach," Fleck joked after. "It was a fun game, that's what it should be. Fun for the fans, fun for the families, really fun for the players. It's a reward. It's the only time before the season starts you really get in a high-pressure environment that's on TV and you have to be able to perform in."
Evans, Tyler Nubin and Le'Meke Brockington were named the Sid Hartman Spring Game MVPs after. Brockington brought his trophy to the post game media session.
"It's an honor. Just knowing that Sid Hartman is one of the greatest sports announcers, it's a great honor," Brockington said.
There were big plays, explosive plays and even a few trick plays. Each team was given two to run throughout the game, and both got one out of the way early. Maroon's first offensive play from scrimmage was a run to offensive lineman Aireontae Ersery up the middle.
Gold's second offensive play was a Cole Kramer 53-yard touchdown to Nubin, a safety, who has been in Fleck's ear every practice about getting more plays.
"He makes a play and then he thinks he is that. After that he comes up and tells me he should be playing offense this year," Fleck said. "He's lucky he got some snaps today, in a good way. He's a heck of a player."
On the touchdown, Nubin acted confused about the personnel on the play before being left uncovered down the sideline. The former high school receiver showed off his skills.
"It was a little trick play, a little hide the man play on the sideline. I ran out to the numbers and then acted like I didn't get the personnel right. Still on the sideline waiting for the ball to snap and I just took off," Nubin said. "I just want to play football and I love football."
Athan Kaliakmanis, the presumed starting quarterback, got off to a tough start before settling in during the second quarter. The offense stalled with three punts to open the game, and Kaliakanis later had a pass intercepted by Kerry Brown.
He rallied with a pair of touchdown drives, hitting Elijah Spencer four times on slants before faking a handoff and running in for a score. He later hit Spencer with a perfect throw on a corner route for a touchdown.
Kramer did his part to push Kaliakmanis, hitting Brockington on a deep pass that set up Evans' first touchdown. He later hit Brockington on another long pass for a touchdown, but also had a pass dropped that was intercepted by Jack Henderson.
"I thought Cole had a really good day today, I thought Athan got his rhythm in about the second quarter and made some big-time throws. I thought both quarterbacks took a huge step forward in their development," Fleck said.
Spencer was the best player on the field that didn't win an MVP trophy, with nine catches for over 100 yards, and a score.
It was also a big day for a new running back room. Jordan Nubin had at least two long runs, and a walk-in touchdown. Evans' second touchdown run went for 75 yards up the middle, and freshman Darius Taylor scored from 1-yard out to give Maroon a 31-24 lead in the fourth quarter.
They showed big-play ability, without Chris Autman-Bell and Brevyn Spann-Ford even playing.
"This team has the potential of being explosive. We have a chance, and that's all I can ask out of these guys," Fleck said.
Dragan Kesich also had a big day on special teams, converting all four of his field goals from long range. In addition to two interceptions, the defense had at least two sacks and a fourth down stop in the fourth quarter.
Fleck said spring football is about players putting themselves in a position to earn playing time. The fall becomes the time to win jobs. The next time the Gophers will be in a playing capacity on TV is their Aug. 31 opener against Nebraska.
"You want the spring to peak at the right time, just like you do in a game. As we've gone through the spring, we wanted the game to get to a point where when we play, we want to look like we're going to look on a Saturday," Fleck said. "I walked off the field feeling very good about the competitiveness."