Gophers beat St. Cloud State 4-1, book 2nd straight trip to NCAA Frozen 4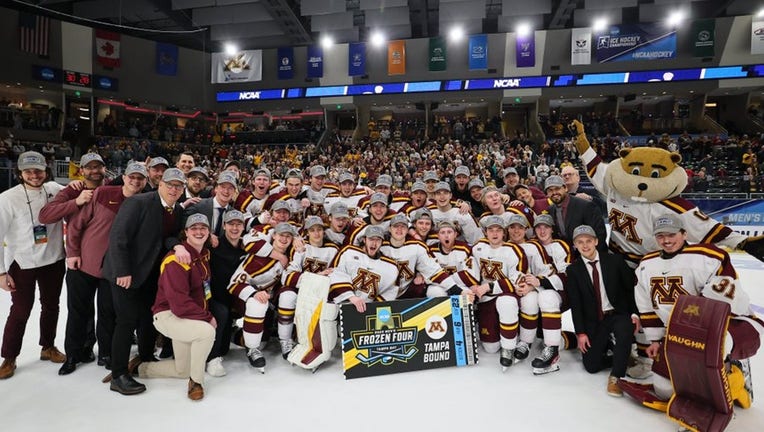 article
MINNEAPOLIS (FOX 9) - The University of Minnesota men's hockey team is headed back to the NCAA Frozen Four.
The Gophers (28-9-1) will head to Tampa next week after beating St. Cloud State 4-1 in the Fargo Regional title game Saturday night at Scheels Arena. Minnesota entered the NCAA Tournament as the No. 1 overall seed, and started things with a 9-2 win over Canisius in the regional semifinal Thursday night.
Saturday, the Gophers got goals from Bryce Brodzinski, Logan Cooley, Jackson LaCombe and Jaxon Nelson, and 28 saves from Justen Close. Minnesota will face Boston University, which beat Cornell 2-1 in the Manchester Regional title game, in next Thursday's national semifinals in Tampa.
The Gophers took a 1-0 lead in the first period on Brodzinski's fourth goal of the tournament. He netted a third period hat trick in Thursday's win. Cooley gave Minnesota a 2-1 lead at 5:57 of the second period after LaCombe hit him on a pass that sent Cooley on a breakaway. It was his 20th goal of the season, and extended a point streak to 15 games.
The Huskies nearly tied the game at 7:04 of the third period, but Kyler Kupka's shot on an open net off a rebound missed wide. LaCombe gave the Gophers a 3-1 cushion at 16:25 of the third period on a feed from Cooley. Minnesota sealed the win with an empty net goal, as Nelson cleared the puck, banked it off the glass and scored on a shot that was nearly the length of the ice.
The Gophers are headed to the NCAA Frozen Four for the second straight year. They're seeking their first national championship since 2002-03.