Covington: No timetable for return from knee injury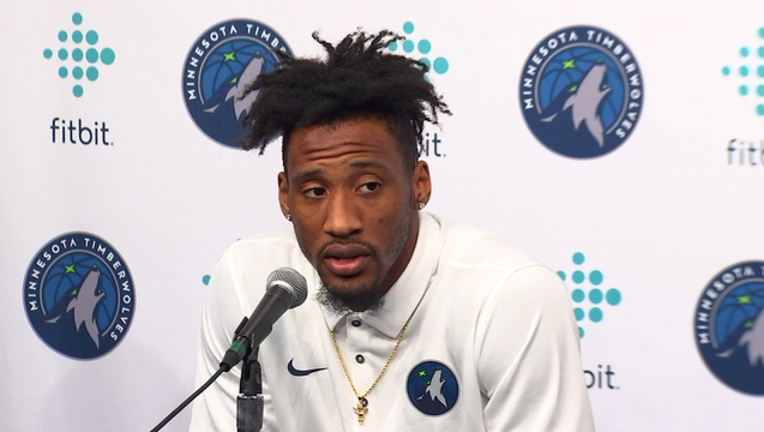 MINNEAPOLIS (FOX 9) - Robert Covington doesn't know yet when he'll be back on the court in a game for the Minnesota Timberwolves, but he knows one thing: He won't rush his recovery back from injury.
Covington will be inactive for the 20th straight game Wednesday night as the Timberwolves host the Houston Rockets. It's Minnesota's last game before the NBA All-Star break. Covington last played 38 minutes in a loss at New Orleans on New Year's Eve.
He suffered a bone bruise in his right knee. He just started getting back to doing light shooting after practice last week, about seven weeks since the injury.
Covington spoke Wednesday for the first time since being sidelined.
"Right now it's progressing really well. It feels good to be out here just getting up and down with the guys on certain drills," Covington said. "But just gotta continue to take it day to day."
Covington is remarkably staying as positive as possible while he rehabs his ailing knee. It's been a trying season for Covington, who didn't play less than 29 minutes per game in his first 13 games this season with the Philadelphia 76ers.
He came to the Timberwolves with Dario Saric as part of the trade for Jimmy Butler. It was a new team and a new city at the time, but he's doing his best to make the best of the situation.
Covington has been active and played in 23 games with the Timberwolves, averaging 13.3 points 5.7 rebounds. He also was a key piece in the Timberwolves making big strides on defense. Minnesota was 12-11 in those 23 games.
In the 19 games without Covington so far, the Wolves are 9-10. They're also four games out of a spot in the Western Conference Playoffs with 25 games left after Wednesday's game against the Rockets.
His frustration with the injury is clear, but Covington isn't coming back until he's 100 percent.
"It is frustrating not being out there with your guys to compete, but you've got to make sure you want to be out there fully healthy, not just half and not giving it your all," Covington said. "That's what kind of keeps me focused in, getting back there fully with everyone."
There is no timetable for his return, and he's not going to rush it. He said he plans to spend the NBA All-Star break in Nashville, doing more rehab on the knee.
"It's a grind, it's part of it. You've just got to stay focused, you can't get discouraged because the minute you start getting discouraged, that's when you're not focused in on what you're doing to try to get back," Covington said. "Your recovery time is a lot longer, so mentally you just have to be locked in."
It's a day-to-day process for Covington. He doesn't ramp anything up in his rehabilitation process unless he knows he feels good and his body can handle it.
He refuses to rush the process because when he's back, he wants to be playing at 100 percent and not hold anything back.
"I want to be back completely healthy once I do come back," Covington said.
As do the Timberwolves, who hope they're still in playoff contention by the time he's back and healthy on the court.