Cave grand slam, Cruz's 7 RBI lead Twins over White Sox 14-2 for series win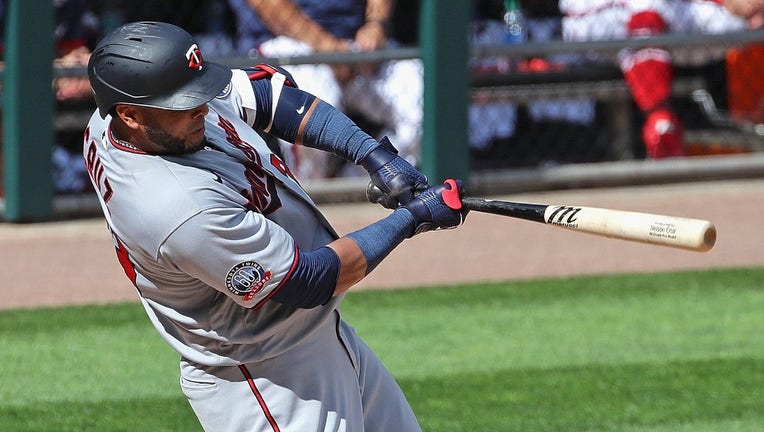 article
MINNEAPOLIS - With everything magnified in a shortened season, it's imperative for the Minnesota Twins to get off to a fast start to defend their American League Central Division title.
It's only a three-game sample size, but so far, so good for the Twins. Jake Cave started Sunday's offensive onslaught with a first inning grand slam. Nelson Cruz had a historic day with four extra base hits, seven RBI and 12 total bases, and Kenta Maeda put up zeroes early as the Twins pounded the White Sox 14-2 to win their first series of the season.
The Twins had 14 hits and crushed four home runs, and Cave's first inning slam with two outs to give Minnesota the early lead set the tone. He's making the most of his time in the outfield with Byron Buxton out injured.
"That was a huge swing by Jake. He's here to stay and it's a good feeling when you get to pencil him in the lineup and he just continues to go out there and produce for us," Twins manager Rocco Baldelli said after the win.
It was just the start of a big day for the offense. Cruz hit a bases clearing double with one out in the second that gave the Twins a 7-0 lead. Eddie Rosario followed with an RBI double and Luis Arraez added a run-scoring single, and it was 9-0 Twins after two innings.
Cruz crushed a Gio Gonzalez offering in the fourth to left center for a solo shot and a 10-0 lead. He also sent a laser to the seats on left, a three-run shot, in the eighth to give the Twins a 13-2 lead. Cruz finished 4-for-5 with two doubles and two homers. In his last 19 games in Chicago, Cruz has 11 homers and 34 RBI.
"For a lot of people it's a career day, the kind of day you probably never forget. Maybe Nelson remembers all of them, but I don't know if that's possible. He has a lot of games where he's extraordinarily impressive. I haven't seen too many guys do anything like this," Baldelli said.
Cruz, a designated hitter, says he's just doing his job.
"It's just another game, I try to just bring the same approach day by day, trust the work that I put in every day and just go out there and try to execute. If you stick with it, you're going to be more likely to be successful most days," Cruz said.
Kenta Maeda, added to the Twins in the off-season in a trade involving Brusdar Graterol, made his debut Sunday. He went five solid innings, allowing two earned runs on five hits while striking out six and walking one.
Out of his 84 pitches, 58 were strikes.
"I'm glad I was able to make a good debut as a Twin. Obviously I couldn't have done it without the run support from our team. Because we had many runs scored in the first inning, I went all out instead of pacing myself so I was able to get a good start from the first pitch," Maeda said.
He had plenty of waiting to do in the dugout early on, with the Twins scoring nine runs over the first two innings. His only blemish was a Luis Robert two-run homer to center in the fifth.
"It was a beautiful first start for him here. He was extraordinarily sharp. It is not easy when your team is putting some runs up on the board and having those long innings for a guy to just wait. There was a lot of time in between those first few innings," Baldelli said. "It didn't affect him one bit, he found a way to get it done."
The Twins scored 27 runs over the three-game series. They also hit seven homers, capped by a Marwin Gonzalez solo shot to right in the eighth.
Most importantly, Minnesota heads home with a 2-1 record and a series win ahead of hosting the St. Louis Cardinals on Tuesday.