Byron Buxton carted off the field after left foot injury in Twins inter-squad scrimmage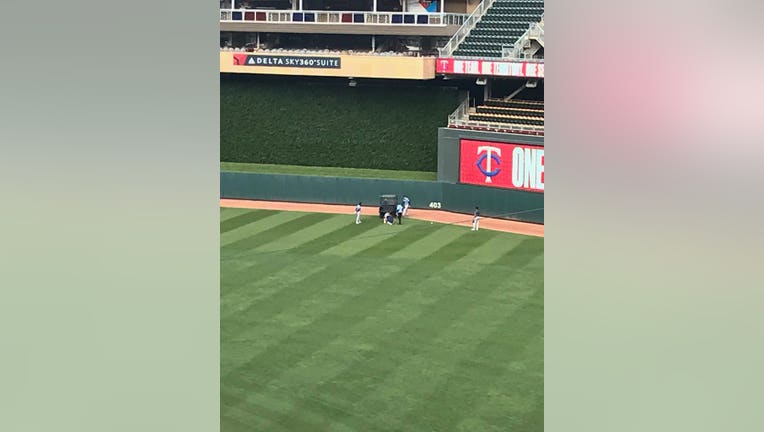 article
MINNEAPOLIS (FOX 9) - Just days after returning to Twins' Summer Camp, Byron Buxton was carted off Target Field in Minneapolis Monday night after injuring his left foot. 
Buxton was tracking down a fly ball when the apparent injury occured. He was on the ground for several minutes before being put onto a cart to be taken off the field. Buxton didn't put any weight on his left leg, and needed the help of multiple team staff to get on the cart.
The Twins said they are doing imaging on the injured left foot and will have more information Tuesday. 
Twins manager Rocco Baldelli, after Monday's scrimmage, called Buxton's injury a "misstep." He said they looked at video after, and it was hard to tell what exactly happened. They're cautiously optimistic it isn't serious.
"We took Byron inside to get looked at by medical staff and fortunately, relatively speaking, the initial once over didn't show anything, which I think we can take as a cautiously optimistic, good sign," Baldelli said. 
The star center fielder had just returned from an off-season shoulder surgery, from which he said he recovered 100 percent. 
Buxton had been impressing teammates and coaches in his first few days in Summer Camp. In two inter squad games last week, Buxton had a pair of doubles, one off Jose Berrios.
"Buck does everything right. Buck handles his preparation, he does everything right on the field. He plays the game exactly the way you would hope that one of your young stars would play the game. That's who he is. Because of that, all his teammates feed off him," Baldelli said. "He's favorited in the clubhouse because of the way he plays. He didn't do anything wrong out there today, it was just a misstep out there in the outfield. That's really the only way that I would describe it. Today was just kind of an off chance misstep."
Buxton missed the last month of last season, and the playoffs, after having shoulder surgery. He was injured chasing down a fly ball in Miami and slammed against the fence, injuring his shoulder.
He was on track to be ready for an Opening Day in late March, but delaying the season until July gave him even more time to heal. He posted videos on social media during quarantine taking swings outside.
It's been a whirlwind three-plus months for Buxton, preparing to be a father for the second time while dealing with the uncertainty of a baseball season during the COVID-19 pandemic. Buxton's wife had their second son, Blaze, just days before Summer Camp started.
When Buxton was healthy last year, he was one of the most dangerous players for the Twins. He hit .262 with 30 doubles, four triples, hit 10 homers and had 46 RBI in 87 games. He stole 14 bases and put pressure on opposing pitchers when on the bases, but might have made the greatest impact on defense.
Last week, Buxton noted he had made a few adjustments in the off-season. He said he was learning to leap more off two feet to make catches at the wall, learning when to be aggressive on a defensive play and when to play one off the wall.
We'll know more on Tuesday if Buxton's latest injury is enough to keep him out of the Opening Day lineup on July 24 in Chicago.