'I can't get swept': Anthony Edwards leads Timberwolves to 114-108 win over Nuggets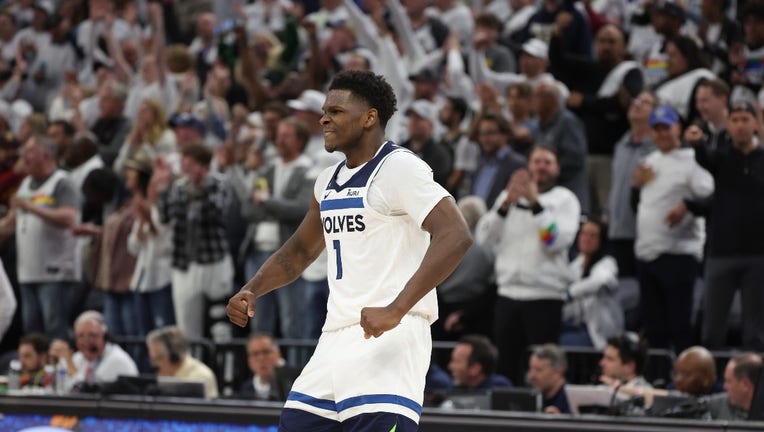 article
MINNEAPOLIS (FOX 9) - The Minnesota Timberwolves aren't done just yet.
Carried on the shoulders of Anthony Edwards and needing overtime to get there, the Timberwolves beat the Denver Nuggets 114-108 Sunday night in Game 4 of the NBA Playoffs to avoid a series sweep, and extend their season at least one more game. Edwards scored 34 points on 12-of-27 shooting, including the biggest 3-pointer of the night to give the Timberwolves a 112-108 lead with 11 seconds to play in the extra session.
It's his third straight game with over 30 points. He told his teammates before Sunday night's game the season isn't over, despite a steep hill to climb down 3-0.
"That's just the truth. It's 3-0, you've got to win one more game to send us home. I was just telling the truth, they still gotta win one more game to go home," Edwards said. "We got a chance to win another game and come back to Minnesota. I take pride in I didn't want to say I got swept. I don't ever want to say I got swept in my career, so I definitely took it personally tonight."
With their season on the line and trailing by nine in the third quarter, then again being pushed to overtime, the Timberwolves responded. So many other times this season, they crumbled under that pressure. Sunday, they rose to the occasion and the moment.
"They could've easily hung their head into overtime, but they didn't. We've talked about it all year, we're just better when we have a desperate situation.," Timberwolves coach Chris Finch said after the win.
Edwards scored 16 points in the third quarter as the Timberwolves were down as many as nine, and the Target Center crowd was lacking energy with the season on the line.
"He's building on what he did last year in the playoffs, which is impressive for a player his age. You know he's not afraid of the moment, he's seeing a lot of different defenses. The most important thing is his experience, just going through this. We've said it many times around our facility, the biggest shame about Naz (Reid) and Jaden (McDaniels) not playing, the biggest shame is those guys aren't getting the experience of playing playoff basketball at this point in their career," Finch said. "That's invaluable, for young players to do that at this time in the season, it bodes well for what they need to do to carry them into the summer."
Conley added 19 points and eight assists. Karl-Anthony Towns had 17 points and 11 rebounds before fouling out, and Rudy Gobert had 14 points and 15 rebounds.
The Timberwolves led 96-84 with 2:37 to play, but the Nuggets forced overtime with a 12-0 run to finish regulation. Denver was sparked by consecutive 3s from Nikola Jokic, who finished with 43 points, 11 rebounds and six assists.
"I'm not going to lie, I was like how the H did that happen? At that point it was hey, nothing we can do about the last two minutes. We can control the next five, let's come out here as a group and lock back in on what we did to get that lead," Conley said.
Jamal Murray added 19 points, but shot 8-of-21 from the field.
Nickeil Alexander-Walker hit consecutive 3-pointers in the extra session to give the Timberwolves an offensive lift off the bench, and a 107-102 lead. Edwards' final 3-pointer with 11 seconds to play in an isolation situation was the dagger.
"I wasn't passing the ball. I was taking the shot, I was going to live with whether I lost us the game or we won. That ended up being the shot. My teammates played great tonight," Edwards said. "I can't get swept. It can't be a great story if I say I got swept. I went to KAT's house the next day and was talking to KAT. He did a great job today just being a presence, he's one of the reasons we won the game."
Not only did Edwards go out of his way to praise his teammates, he was highly critical of his own game. Despite finishing with 34 points, he was more frustrated with a sequence in the second half that ultimately led to overtime.
"I played terrible if you ask me. We was up nine, I check in the game and I took a bad 3. We go up 12, I take like three bad 3s, three terrible possessions, I damn near shot us out the game," Edwards said. "I'll definitely be in the gym tomorrow working on my game some more."
The Timberwolves still trail 3-1 in the best-of-seven series, but head to Denver for Game 5 Tuesday night.
"I thought we played with a sense of urgency that we haven't seen all season. Obviously with the back against the wall, we brought all the stops we could. All the guys who played tonight was ready to go," Conley said.