Cameron Champ shoots bogey-free 66 to win 3M Open at 15-under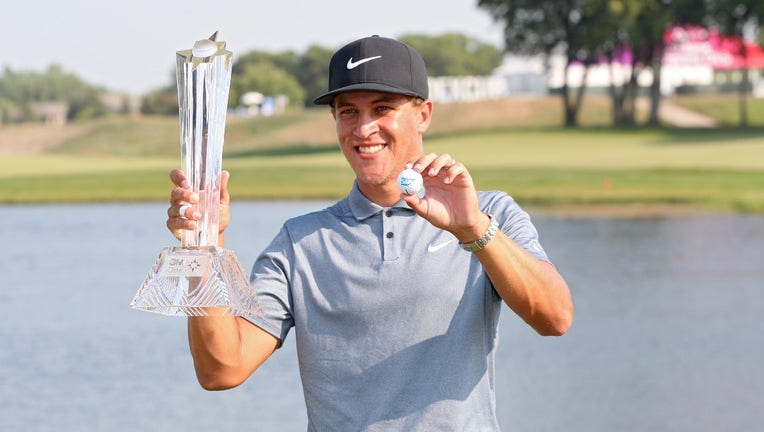 MINNEAPOLIS - Cameron Champ is the newest winner of the 3M Open after shooting a bogey-free, 5-under par 66 on Sunday at TPC Twin Cities to finish at 15-under par, two shots clear of Louis Oosthuizen, Jhonattan Vegas and Charl Schwartzel.
But the win didn't come without some drama over the final nine holes.
Champ, 26, won his third PGA Tour event despite battling dehydration on the back nine on a hot Minnesota summer afternoon, and an eventful finishing hole. With a two-shot lead at 15-under par, Champ took driver out on No. 18 and hit it well left of the fairway. He was forced to chip out, lay up on the par-5 and hit a gap wedge from 127 yards to within a few feet for a tap-in par and the win.
He had to wait for Cameron Tringale, Gary Woodland, Pat Perez and Maverick McNealy to finish for it to be official, but they couldn't catch him. After saving par, Champ put his head in his hands and took in the moment.
"It was just emotion. I was just ‑‑ it's just I know this is the player I can be and again it's allowing myself to be that player. It has nothing to do with putting stats or driving stats or iron stats, none of that. It has to do with me allowing myself to be that player," Champ said. "I'm the happiest I've ever been."
With the win, Champ earns 500 points and improves to 47th in the FedEx Cup Playoffs, where the top 125 make the end-of-season tournament. He also takes home nearly $1.2 million in earnings. He's now a three-time champion, having won the 2018 Sanderson Farms Championship and the 2019 Fortinet Championship.
But the 2020-21 season hasn't been the easiest for Champ, despite this week's win and three other top-20 finishes. He's also missed 11 cuts, and had a stretch of five straight weeks where he missed four cuts, and withdrew from the Memorial Tournament. He said something had to change after missing the cut earlier this month at the Rocket Mortgage Classic.
A week later, he finished in a tie for 11th at the John Deere Classic.
"After Detroit I just took a step back and said, you know what, this is enough, I can't keep going on this way, I'm not enjoying the game, it's not fun," Champ said. "In order for me to enjoy the game and for it to be fun, I have to be true to myself and who I truly am as a person. That's kind of how I've been on the course."
Champ entered the day two shots behind Cameron Tringale, but took the lead after a birdie on the par-4 11th to get to 14-under par. Tringale was in contention until a triple bogey six on the par-3 13th, and shot a 3-over par 74 to finish at 9-under. Champ added a birdie on the par-4 16th to give himself a two-shot lead with two to play.
Champ hunched over at times and backed off a few key shots in the closing stretch as heat took over the Twin Cities much of the week. He had a Gatorade at 16 and felt like himself again.
"I was definitely dehydrated. Obviously I feel a lot better now. I'm not sure why I was because I drank a lot of water, but obviously the Gatorade definitely helped I think keep me going," Champ said.
Gary Woodland started one shot back, but shot a 1-over par 72 to finish the tournament at 10-under par. The two previous 3M Open winners, Matthew Wolff and Michael Thompson, finished tied for 39th at 5-under par, as did Spring Lake Park native Troy Merritt.
PATRICK REED REPLACES BRYSON DECHAMBEAU IN OLYMPICS
Patrick Reed was in the scorer's tent after his third round at the 3M Open in Blaine Saturday when he got a message that he needed to call Andy Levinson, the senior vice president with USA Golf.
He knew what was coming. Reed, No. 13 in the World Golf Rankings, was being named to the Olympics for golf. He's replacing Bryson DeChambeau, who tested positive for COVID-19 in his final round of testing before he would've departed for Tokyo.
Reed was an alternate and next in line to be named to the Olympic team. He also played in the 2016 Olympics in Rio de Janeiro, Brazil.
"Anytime I can represent my country and go play for my country, I'm going to do it no matter what, no matter where it is, no matter what time zone or how I have to get there or anything. When they gave me the name Captain America, the fans did, it feels like an obligation and a duty of mine to go out and play for our country whenever I can and whenever I get the call," Reed said after his final round Sunday at TPC Twin Cities. "To be able to go in and represent our country with a small group of guys and go out there and try to bring home gold is just an honor I can't pass up."
Reed will have to pass three COVID-19 tests 24 hours apart before he can fly to Tokyo. He's hoping to leave by Tuesday morning.