Walz to announce timeline to end all COVID restrictions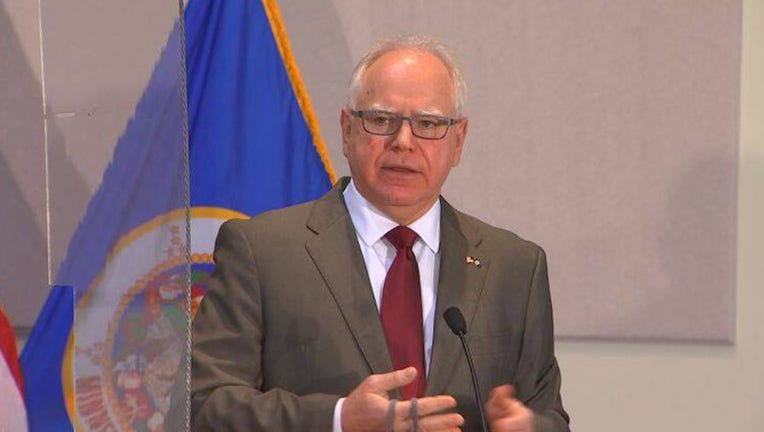 (FOX 9) - Minnesota Gov. Tim Walz will announce a timeline Thursday to end the state's COVID-19 restrictions, a spokesman said.
Walz's timeline does not mean that restrictions will end immediately, only that he's setting future dates or benchmarks for their removal. The administration has been debating the changes internally for at least a week.
"As millions of Minnesotans are getting vaccinated, Gov. Walz is making plans to wind down COVID-19 restrictions and get Minnesota back to business as usual," said Teddy Tschann, the governor's spokesman.
Walz will give a live statewide address at 12 p.m., followed by a news conference at 1 p.m. FOX 9 will carry the governor's address and news conference live on air and streaming at fox9.com/live. 
Thousands of business owners and their workers will be watching the governor's decision closely. Many businesses -- including bars, restaurants and gyms -- have been forced to close or limit their operations for more than a year.
"Literally, I sit there every day and watch customers walk out the door," said state Rep. Keith Franke, R-St. Paul Park, who owns a cafe and bar. "I would like to hear you can open up 100 percent, you can get rid of your masks, and we can move forward."
Restaurant owners viewed Walz's most recent relaxing of restrictions as a hollow promise because, while it increased dining room capacity to 75 percent from 50 percent, it required six feet of distance between tables. Many venues could not add capacity.
Tony Chesak, executive director of the Minnesota Licensed Beverage Association, said he was in the dark about Walz's decision-making. An industry group formed to advise the governor had not met for several weeks, he said. 
"For the first time in a long time, we don't know either. We would get a heads-up here and there on what's coming. But this time is different to us," Chesak said. "We're ready. We've been ready for a long time. We've proven that. We've shown that."
Walz has given several indications of what he plans to do. Tuesday, he appeared ready to link economic reopening to a 70 percent vaccination rate.
"That changes the entire calculus," Walz told reporters Tuesday about the 70 percent benchmark. "At that point in time, as I've said, Minnesotans should start assuming they're going to have a very normal summer."
As of Wednesday, 59 percent of Minnesota adults had gotten a shot. While Minnesota's vaccination rate is among the nation's best, the state has given fewer shots each of the past three weeks as hesitancy and refusal take hold. 
Walz said Friday that his administration was considering whether to link restrictions to the county-by-county rates, which vary widely. No decision had been made, the governor said.
Several counties, including Hennepin and Ramsey, are approaching 70 percent. Two, Olmsted and Cook, have already crossed it. But seven other counties in central and western Minnesota are stuck below 40 percent.