US surpasses China, Italy in number of COVID-19 cases with more than 82,000 reported
The United States has officially surpassed China and Italy in its number of COVID-19 cases, becoming the country with the most reported novel coronavirus cases in the world. 
RELATED: CDC's 'flatten the curve' graphic shows why social distancing amid coronavirus pandemic is necessary
According to a running tally kept by Johns Hopkins University, the U.S. had 82,404 confirmed cases of COVID-19 as of Thursday evening. China had 81,782 and Italy had 80,589.
See mobile version here. 
The news comes as the global infection count passed the half-a-million threshold Thursday, according to the Johns Hopkins count.
U.S. deaths from the pandemic have now topped 1,000, in another grim milestone for a global outbreak that is taking lives and wreaking havoc on economies and established routines of life. Worldwide, the death toll climbed past 23,000, according to Johns Hopkins' running count.
RELATED: CoronavirusNOW.com, FOX launches national hub for COVID-19 news and updates
Nearly 3.3 million Americans applied for unemployment benefits last week — almost five times the previous record set in 1982 — amid a widespread shutdown caused by the virus. The surge in weekly applications is a stunning reflection of the damage the viral outbreak is inflicting on the economy. Layoffs are sure to accelerate as the U.S. economy sinks into a recession with revenue collapsing at restaurants, hotels, movie theaters, gyms and airlines.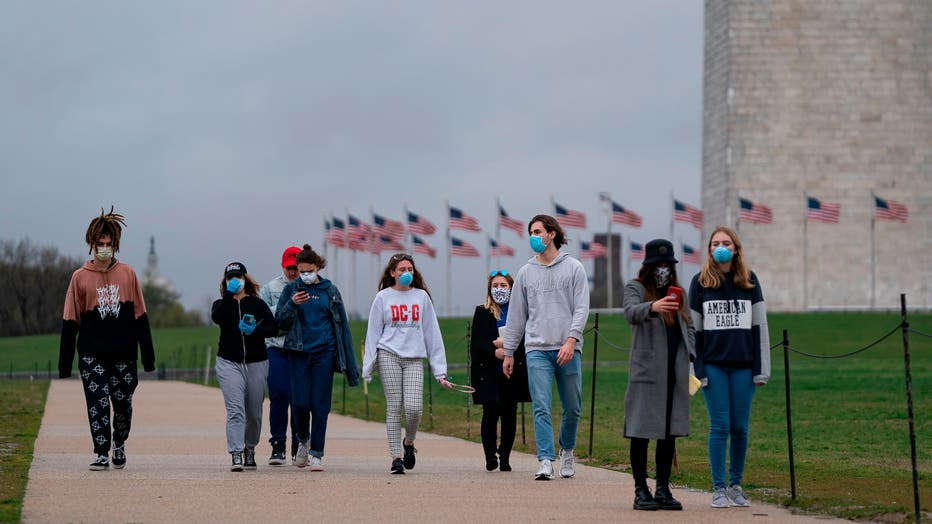 FILE - A group of young people wear protective masks as they walk near the Washington Monument on the National Mall on March 25, 2020, in Washington, DC. (Photo by ALEX EDELMAN/AFP via Getty Images)
RELATED: Social distancing: What to do and what not to do to slow the spread of COVID-19
Spanish and Italian medical workers are at a breaking point as the virus wages a bitter war of attrition against health care workers around the world. Italy reported 6,153 new coronavirus infections Thursday, pushing the country's total to 80,539 cases, almost as many as China.