Strong winds push Greenwood fire farther northeast, likely destroying homes
ISABELLA, Minn. (FOX 9) - The Greenwood Fire burning in the Superior National Forest in northern Minnesota is expected to jump State Highway 1 Monday, triggering more evacuations in the area.
The U.S. Forest Service said the fire has moved northeast into the vicinity of McDougal Lake, requiring fire and structure protection crews to retreat to safe areas.
Lake County Emergency Management issued new evacuation orders from Deep Lake Road to Isabella Road, including the Mitawan Lake, Grouse Lake and Kitigan Lake Areas. A new Red Cross evacuation area has been established at the ice arena in Babbit.
The fire was first detected on Aug. 15 near Greenwood Lake, approximately 15 miles southwest of Isabella. The Forest Service determined the fire was started by lightning.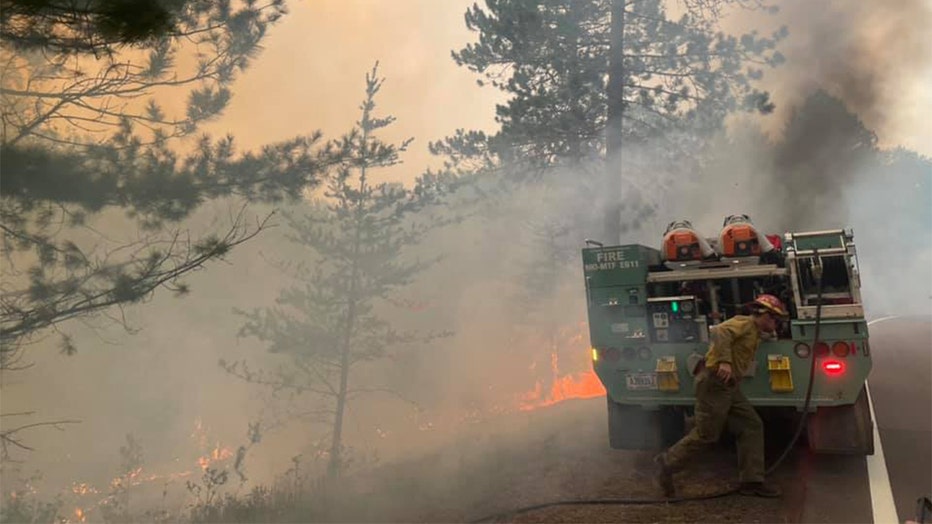 Firefighters working to contain the Greenwood Fire in the Superior National Forest.  (U.S. Forest Service - Superior National Forest / FOX 9)
The fire remains at around 8,800 acres, which is over 13.75 square miles.
Boundary Waters closed for at least 7 days
The quickly spreading Greenwood Fire and other fires in the Superior National Forest prompted the Forest Service to close the Boundary Waters Canoe Area Wilderness completely. The closure includes all lands, waters, trails, portages, campsites, canoe routes and entry points in the BWCAW.
Permits are canceled through at least Aug. 27 and permit holders will be fully reimbursed.
The Forest Service continued to sweep visitors from the wilderness on Monday in a "safe and orderly manner," according to a Facebook post.
Evacuation orders remain in effect
The Lake County Sheriff's Office has also issued evacuation orders for McDougal Lake, Sand Lake, the Highway 2 corridor and north of Highway 1 in the vicinity of East and West Chub lakes, Jackpot Lake and Slate Lake.
Due to changing fire conditions and additional road closures, the American Red Cross Disaster Shelter at the Finland Community Center in Finland, Minnesota was closed as of 5 pm Monday, August 23. A new Temporary Evacuation Point (TEP) has been established by the Red Cross at Babbit Municipal Center, located at 71 South Drive in Babbit.
The change in location was made in coordination with local emergency management agencies. The Red Cross TEP will be staffed from 8 a.m. to 8 p.m. daily, and will offer information, supplies, and assistance to those evacuated from their residences due to the Greenwood Fire in the Superior National Forest. 
Many residents expressed frustrations about the Red Cross evacuation center being moved farther north, making it hard to access for many people. But many said they believe the growth of this fire today destroyed homes in its path.
"It's scary. It's scary as hell… what can you do," said Dennis Duerr, who was forced to evacuate the area.
"I've got right around 100 sled dogs around there, and we pulled those out Saturday night and Sunday morning," said Chuck Gould, who was forced to evacuate the area.
Meanwhile, East Area Incident Commander Brian Pisarek said that with so much smoke, it's hard to tell how much the fire has grown.
The fire has potentially grown to several nearby areas, including a nearby lake where one homeowner showed us video from his security system showing falling ash as the fire likely took over his property.
With no end to the Greenwood Fire in sight, they say they'll do everything to protect property but will always prioritize keeping the public and fire crews safe.
– prioritize keeping the public and fire crews safe.
"We don't want this to hurt nobody. The forest will grow back and we cannot jeopardize fire fighters because we need them for this fire and future fires."
The incident commander said winds are expected to shift, and the fire is expected to grow north in a different direction than it did today. He also said with some wildfires expected to slow down in Montana, the area should be getting more resources like more planes to drop water. 
Road, forest closures 
Hwy. 2 is closed from Forest Hwy. 11 to Hwy. 1. Hwy. 1 is closed from New Tomahawk Road to Lankinen Road.
A Forest Service closure order is in place in parts of the Superior National Forest. It extends across areas within the Kawishiwi, Laurentian and Tofte Ranger Districts.
A temporary flight restriction is also in place over the Greenwood Fire.