U of M students demanding more diversity occupy President Kaler's office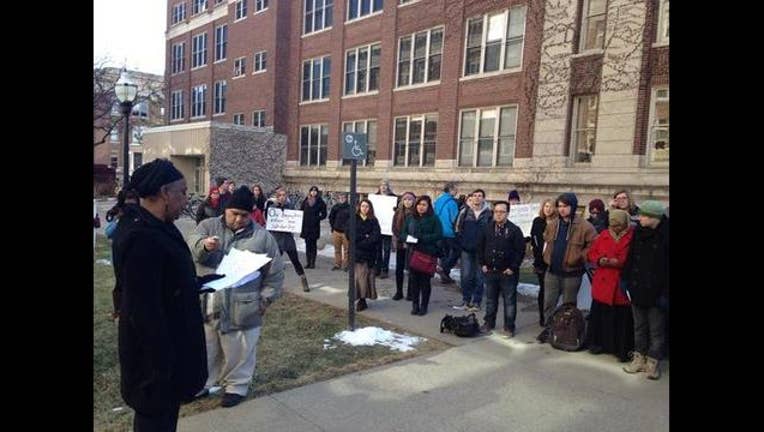 article
Today, a University of Minnesota student group called Whose Diversity? marched on and occupied President Eric Kaler's Morrill Hall office.
In a statement posted on Facebook, the group outlines its demands and criticizes Kaler and other administrators for not doing enough to promote diversity on campus.
"Several Campus Climate meetings were held on campus which were advertised as venues for change, but they reflected only the superficial PR concerns of the administration," the statement says. "We have yet to see an increase in the number of faculty of color on campus -- in fact there are less faculty of color this year than last... Students on this campus inhabit many gender identities, yet there has been a lack of tangible effort from the administration to take the simple action of making at least one restroom in each campus building accessible to people of all genders."
The group has been documenting today's march and students' interactions with Kaler (pictured below sitting with maroon and gold tie) on Twitter:
Henneberry adds that it has yet to be determined whether or how security and police will attempt to get the student demonstrators out of Morrill.
:::: UPDATE ::::

Murphy News Service reports that Morrill has been "locked down."
:::: UPDATE II ::::
The university released the following statement in response to the demonstration:
The University of Minnesota supports the right of free speech and peaceful protest and believes constructive, frank conversations are vital for addressing issues that affect the campus community.
We share a deep and urgent commitment to increasing faculty, staff and student diversity and to creating a community that welcomes and embraces all experiences and perspectives.
The demonstrators have presented eight issues that the administration is discussing with them. Resolution may require partnerships with all parties working together to achieve a common goal.
Last spring President Kaler charged a group of senior leaders to understand the current campus climate and develop recommendations to improve the campus climate at the U. We remain committed to having an open dialogue with all students, faculty and staff as we continue to address these important issues. Just last Thursday, February 5, President Kaler and other senior leaders participated in an Open Space event at which students, faculty and staff had the opportunity to raise concerns and suggest approaches to fostering a stronger, more diverse community. This event was the latest part of our ongoing effort to engage members of the U community to fully understand concerns and develop solutions that ensure a welcoming environment for all students, faculty, staff and visitors.
All members of the U community have contributions to make in this effort, in our work, our language and our everyday activities. We must work together to integrate positive change into all that we do and continue to listen to all voices in our community.
Image credit -- Twitter