Suspect found dead in trailer following standoff and fire in Andover, Minnesota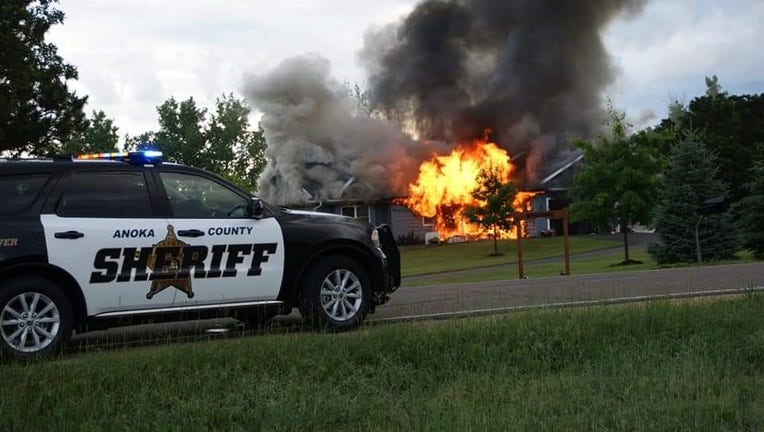 article
ANDOVER, Minn. (FOX 9) - Authorities are investigating after a standoff ended with the suspect taking his own life in Andover, Minnesota.
According to the Anoka County Sheriff's Office, Wednesday morning, authorities responded to a fire and stand-off situation in the 300 block of Andover Boulevard NW in Andover.
Authorities pulled back firefighting efforts after encountering a lone, armed man who was allegedly threatening emergency responders, essentially barricading himself inside a nearby trailer.
The SWAT team was called in to negotiate while the home burned to its foundation.
"They knew that they were armed," said Lt. Andy Knotz with the Anoka County Sheriff's Office. "Who the threats were directed at? I can't tell you. But nonetheless, there was enough of a safety concern, they pulled everybody back and attempted to negotiate the safe surrender of the individual."
Lt. Knotz reports, within a couple hours, law enforcement heard a single gunshot. Authorities believe the man took his own life.
FOX 9 is not identifying him at this point. But neighbors and friends tell us he owned the ranch and had a number of recent brushes with law enforcement, with court documents suggesting he has an issue with police and wanted to commit suicide by cop.
"We walked over there," said neighbor Nikki Pavot. "And within ten minutes, the house was pretty much gone."
Pavot lives on the other side of Andover Boulevard Northwest. When she and her mom woke up before 7 a.m. Wednesday, they could see towering flames shooting from the home. But they had no idea of the drama unfolding at the Thor horse boarding ranch.
"When you see the flames above the rooftops of the houses, you know it's pretty bad," she said. "And it had to be hot, the smoke was very black and rolling, you could tell it was intense."
It turns out the flames were devouring the house on the property.
"It's just so sad, so sad," said Pam Pavot. "I just wish someone could have helped him before it got to this point."