Stolen gun, over 17 pounds of cocaine seized during search of Minneapolis home: Sheriff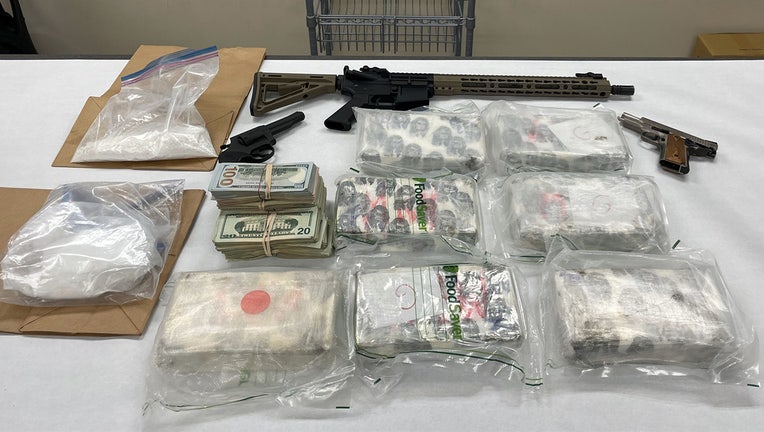 article
MINNEAPOLIS (FOX 9) - Law enforcement recovered a stolen gun and over 17 pounds of cocaine while executing a search warrant at a Minneapolis home, according to authorities. 
The Hennepin County Sheriff's Office said on Tuesday members of the Emergency Services Unit and Violent Offender Task Force detectives executed a search warrant the week prior as part of an ongoing weapon and narcotic investigation. 
According to court records, law enforcement arrived at the 3400 block of Irving Avenue North on April 11 to search the residence and found the following: 
17.4 pounds of cocaine
Three firearms, one of which was reported stolen out of Pine County
$27,000 in U.S. currency
THC edibles
Three jars of marijuana
A trash bag full of drug packaging belonging to the seven kilograms of cocaine
Three adults were home at the time, and authorities took 37-year-old Luis Fernando Cervantes into custody. The two others were released. 
Detectives claimed Cervantes held a high position in a drug distribution hierarchy based on cellphone records and the amount the drug packaging found in the home, court records state. 
Cervantes is charged with one count of first-degree aggravated controlled substance crime with two aggravating factors and one count of being an ineligible person in possession of a firearm. He made his first court appearance on April 13 and the judge set his bail at $1 million without conditions or $500,000 with conditions. 
Cervantes was previously convicted on a first-degree controlled substance charge in 2017 and was sentenced to 62 months in prison, according to court records.