Shooting at St. Paul funeral home leaves 1 dead, 3 injured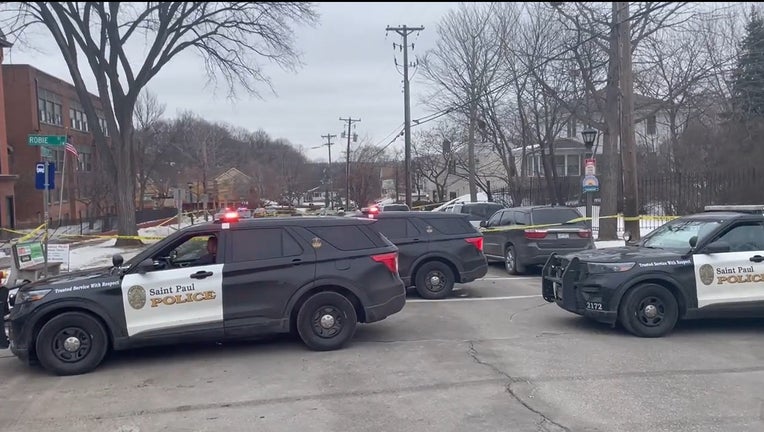 ST. PAUL, Minn. (FOX 9) - A shooting outside a funeral home in St. Paul left one person dead on Monday and three others hurt.
Police say the shooting happened around 11:20 a.m. on the 400 block of Humboldt Avenue. 
At the scene, police found four victims: a 28-year-old man who had been shot in the throat, a man in his 20s who had been grazed in the face by a bullet, a man in his 30s who had been shot in the neck, and a man in his 20s who was shot in the stomach, back, and a leg.
All the victims were rushed to the hospital where the 28-year-old man was ultimately pronounced dead. The man who was shot multiple times is currently listed in critical condition while the other two victims are being treated for their injuries.
The investigation at the funeral home is ongoing. The exact circumstances of the shooting are unknown but officers say there were multiple people firing shots.
The funeral was for Casanova Carter, who was gunned down on February 1 along the 700 block of Winslow Avenue in St. Paul.
"Today, his family and friends and loved ones gathered to lay him to rest and, unfortunately, there was a shooting that took another man's life," said St. Paul police spokesperson Steve Linders.
Police say they are still searching for the suspects involved. They are asking anyone involved to call 651-266-5650.
The Ramsey County Medical Examiner will identify the victim of Monday's shooting.
Community leaders react to St. Paul shooting
A funeral is supposed to be a place where friends and family can lay a loved one to rest. But a service to celebrate the life of a recent homicide victim ended in another violent death.
"It's just another tragedy on top of tragedy," said community leader Tyrone Terrill. "We are at a point where we can't even have a funeral in peace, so it's sad. It's extremely sad."
St Paul Police say 4 men were shot outside the Simple Traditions By Bradshaw funeral home on the city's west side late Monday morning.
Investigators say one of the men, who was shot in the throat, died from his injuries at Regions Hospital, while another, who was shot in the abdomen, back and leg, was critically injured.
"I can tell you there were multiple shooters. There were bullets flying around. It was a scary and dangerous situation," said St Paul Police spokesperson Steve Linders.
Investigators say all four men were attending the funeral for 26-year-old Casanova Carter, who himself was shot to death, earlier this month. They also believe the shooting was gang-related and so far they haven't made any arrests in either case.
"It shouldn't happen but it did. We are troubled by it and we are going to do everything we can to find the people responsible and hold them accountable," said Linders.
This is the city's 8th homicide of the year and community leaders say the violence has to stop.
"It used to be funerals were the safe place where you had respect. You had boundaries. It's not happening," said God Squad coordinator Rev. Darryl Spence.
Police are asking anyone with information about this shooting to give them a call.