Sheriff: 'ICE is creating a sanctuary for criminals in Hennepin County'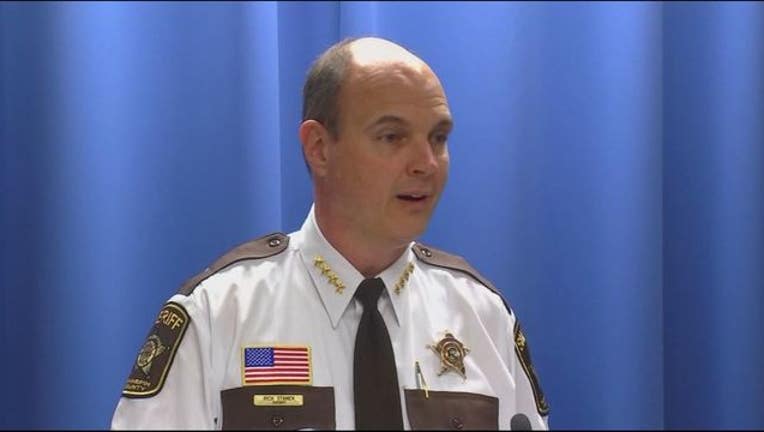 MINNEAPOLIS (KMSP) - The Hennepin County Sheriff's Office announced Tuesday it has been advised by the Immigration and Customs Enforcement Regional Field Office that ICE will not publish a Declined Detainer Outcome Report for the week of Feb. 18 to Feb. 24, "due to a pattern of significant errors and inaccuracies" in the agency's first three reports.
Last month, Hennepin County Sheriff Rich Stanek demanded an apology from the Department of Homeland Security for its initial report, which the sheriff called "incorrect in many ways." The report listed two occasions where the Hennepin County Jail reportedly released two individuals before ICE agents could pick them up. Both cases involved individuals from Mexico, one who had been convicted of drug possession and the other who had been charged with possession of a weapon. 
Stanek said the sheriff's office cooperated with the DHS request and notified ICE when the inmates were going to be released. He says both inmates were transferred into ICE custody when they were released from the jail. At a news conference, the sheriff and Hennepin County Attorney Mike Freeman detailed their policies regarding undocumented detainees and the constitutional restrictions of those detainers.
"Local law enforcement does not enforce federal immigration law," said Stanek. "We have no legal authorization to do so. If ICE wishes a person remain in custody beyond the time he or she is scheduled for release, they must get a court order or they must pick that person at the time of his or her release from the jail."
The Immigration and Customs Enforcement (ICE) Declined Detainer Outcome Report was part of an executive order signed by President Donald Trump in January that requires ICE to document which local jurisdictions aren't cooperating with federal efforts to find and deport immigrants in the country illegally
In its Week 3 report, ICE listed 15 Detainer Requests for the Hennepin County Sheriff's Office. Of the 15 requests, Stanek says 4 were picked up by ICE, one was transferred to another county, 8 were released, and one is still in custody facing first-degree criminal sexual conduct charges.
"The statistics from our agency are quite convincing. ICE is creating a sanctuary for criminals in Hennepin County," Stanek said in a statement. "Even when they notify our agency that an inmate is of interest to them, ICE agents pick up only about one-third of the inmates they ask us to detain. We have examples of ICE not picking up inmates with a Final Order of Removal, a history of violent crime or dozens of arrests, and even inmates who have been in ICE custody several times before."
On March 30, Sheriff Stanek was among a group of sheriffs that traveled to Washington to meet with ICE and DHS officials to express their concerns with the reports and the process. Stanek said the sheriffs re-affirmed that their agencies cooperate with all law enforcement partners, including ICE, to the fullest extent of the law and the United States Constitution.