School's advice after St. Cloud Superman's slur-filled confrontation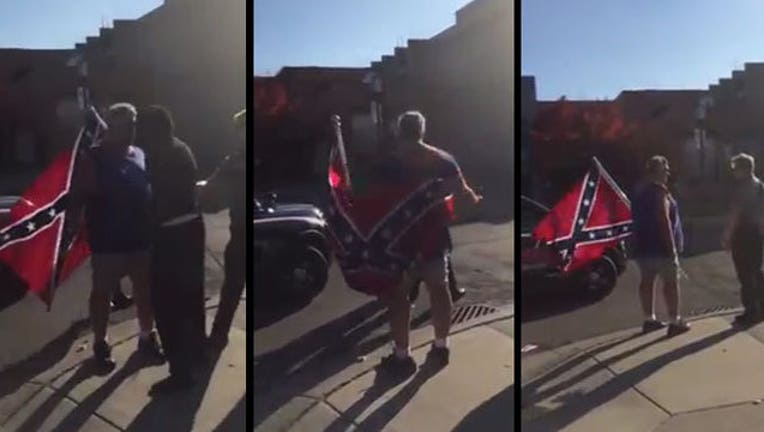 article
ST. CLOUD, Minn. (KMSP) - St. Cloud State University is responding to complaints from students and the community about a recent incident involving the infamous St. Cloud Superman. Video of the Oct. 6 incident posted to Facebook shows a student confronting the Confederate flag-bearing man, challenging him to "call me another n-----," as police arrive to deescalate the situation.
The incident happened on a city sidewalk and technically off SCSU campus property, but "St. Cloud Superman" John Fillah had reportedly been hanging around campus for several hours that day, according to a university spokesperson.
WATCH THE VIDEO at http://www.fox9.com/news/31640818-video
(This video is unedited and contains language and content that may be offensive)
Whether or not Fillah initiated the exchange of racial slurs and what exactly led to the confrontation is unclear. A message with St. Cloud police was not returned, but the university's communications office addressed the incident in an email to students with the subject, "Speech is not always comfortable."
St. Cloud State University is committed to fulfilling our mission as an institution of higher education and an inclusive campus by encouraging the free exchange of ideas and exploration of opinions.  St. Cloud State is also a thoughtful, caring community constantly learning about the many political, religious and cultural beliefs that characterize a campus of this size and its interaction with the broader community.
To protect the rights of freedom of speech and expression, as set forth in the U.S. Constitution, St. Cloud State has policies and practices to permit public expression of opinions and debate. Speech is encouraged, but vandalism, violence, harassment and threats are not tolerated.
St. Cloud State makes every effort to help students feel comfortable here, which includes being supportive of anyone on campus who might feel concern about such expressions. If you experience hate speech, harmful or threatening language:
- Report it to Public Safety at 308-3333.
- Do not engage in arguments, threats or physical altercations with presenters as it may put you at legal and physical risk.
If a presenter on public property is commenting on or promoting a point of view that you do not agree with, it is your right to avoid the area and walk away.
Confidential resources are available on campus to students who need to talk through Counseling and Psychological Services, the Women's Center and Health Student Services.