Rep. Omar says more death threats coming since President Trump tweeted video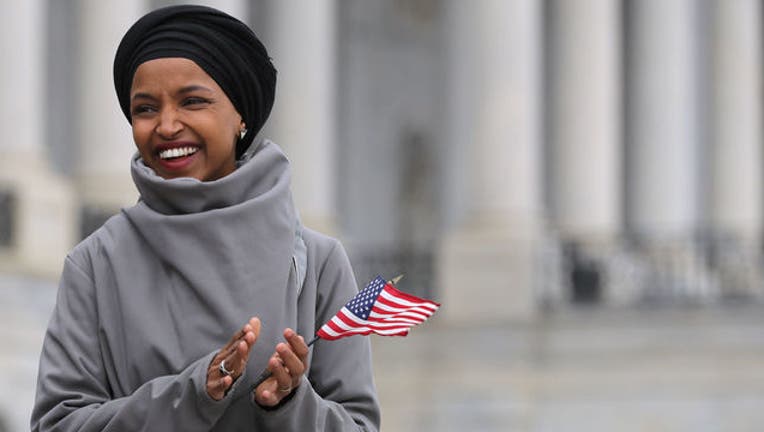 article
(FOX 9) - U.S. Rep. Ilhan Omar, who represents Minnesota's 5th Congressional District, said she has faced an increase in death threats since President Donald Trump tweeted a video Friday suggesting the congresswoman was dismissive of the 9/11 terrorist attacks. 
"We are all Americans. This is endangering lives. It has to stop," Omar said in a statement tweeted late Sunday. 
The president's video includes a clip from a recent speech Omar gave to the Council on American-Islamic Relations in which she described the 2001 attacks as "some people did something," along with news footage from the attacks. He captioned the video, "WE WILL NEVER FORGET!" 
Omar said many of the threats she has received have directly referenced or replied to the president's video. 
"Violent rhetoric and all forms of hate speech have no place in our society, much less from our country's Commander in Chief," Omar said. 
On Sunday, House Speaker Nancy Pelosi called for Trump's video to be taken down and said she was working with Capitol Police to ensure the safety of Omar, her family and her staff. 
White House press secretary Sarah Sanders said Sunday the president is not trying to incite violence against Omar and that he wishes no "ill will" upon the congresswoman, the Associated Press reported. 
Trump tweeted again Monday, saying Pelosi had "lost all control of Congress and is getting nothing done" and accusing Omar of making "anti-Semitic, anti-Israel and ungrateful U.S. HATE statements." 
He also asserted, without evidence, that Omar is "out of control, expected for her control of Nancy." 
Trump will be in the Twin Cities Monday holding a business roundtable at Nuss Trucking and Equipment in Burnsville. 
The Minnesota chapter of the Council on American-Islamic Relations plans to hold a rally in solidarity with Omar outside of the trucking business.  
"This past week, Trump has attacked Congresswoman Ilhan Omar by inciting violence towards her, her family and community. Our purpose is to stand in unity with Rep. Omar and voice our collective values and ideals," organizers said. 
The rally will start 11:30 a.m.