Preparing for the worst: Scientists use technology to determine spring flood risk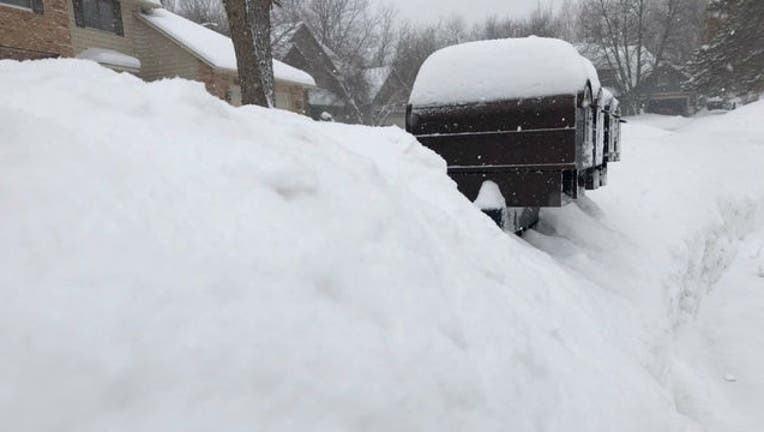 ST. PAUL, Minn. (AP) - Federal and state agencies are using snow tubes, stream gauges and satellites to measure Minnesota's risk of flooding this spring.
The National Weather Service has already predicted an above average flood risk this spring due to the winter's heavy snowfall. 
The Minnesota Department of Natural Resources and the U.S. Geological Survey are working to monitor the depth and flow of streams and rivers across the state to assess how much water they can take in before overflowing.
Researchers are also studying factors such as the snowpack, which is the amount of snow covering the ground that's accumulated this winter, Minnesota Public Radio reports. Army Corps of Engineers researchers are weighing the snowpack to measure its water content.
The National Oceanic and Atmospheric Administration measures the snowpack from the air, using remote sensing with satellites or airplanes.
Many parts of Minnesota are already covered with snow between 18 to 30 inches deep. Some areas have seen between 30 and 40 inches. 
"One thing that makes this winter stand out a bit is that we have such a general snow cover across the entire state," said state climatologist Pete Boulay. "Most years, you see a cluster of heavier snow in one part of the state."
James Fallon, a hydrologist with the U.S. Geological Survey, said another key factor is how saturated the ground was from fall rains before it froze.  
Fallon said the deeper the ground is frozen, the longer it'll take for it to thaw and be able to absorb water from melting snow. Water will run off frost if it can't be absorbed into the soil, Fallon said.
"If the rivers are already high, then there's not a lot of area left for them to go before they start going up," he said.
Fallon said he's hoping for temperatures to gradually warm up this spring, without rain, to allow the water to leak out. 
"But we have to prepare for the worst and hope for the best," he said.