Officer Jeronimo Yanez found not guilty: What they're saying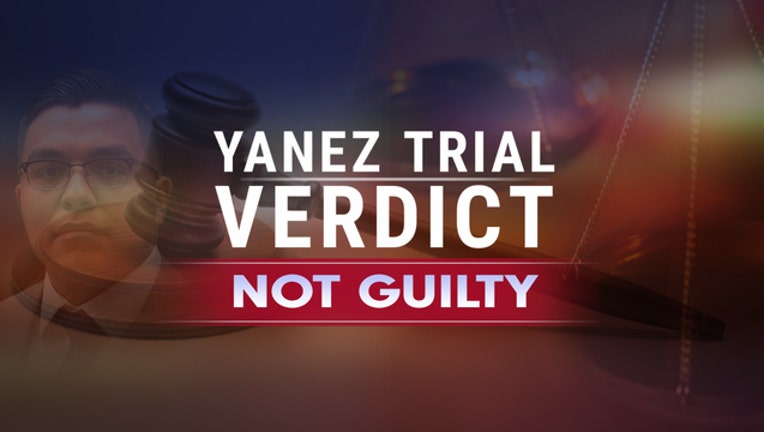 article
ST. PAUL, Minn. (KMSP) - A jury found St. Anthony, Minnesota police officer Jeronimo Yanez not guilty on all counts Friday in the fatal shooting of Philando Castile last July. FULL STORY
Yanez was charged with manslaughter for the July 6, 2016 shooting of Castile during a traffic stop in Falcon Heights. The shooting garnered national attention when Castile's girlfriend, Diamond Reynolds, streamed the aftermath of the fatal shooting on Facebook Live. It was the first time in Minnesota history a police officer had been charged with fatally shooting a citizen.
Yanez was also charged with two felony counts of intentional discharge of a firearm that endangers safety for firing his weapon with Reynolds and her four-year-old daughter also in the car. He was also found not guilty on those counts.
Diamond Reynolds: "I am incredibly disappointed with the jury's verdict. My boyfriend, Philando Castile, was pulled over because, per Officer Yanez, he had a wide nose and looked like a suspect. He did nothing but comply with Officer YANEZ's instructions to get his driver's license. He was seatbelted and doing as he was told, when he was shot by Officer YANEZ who fired 7 shots into the vehicle where my 4 y/o daughter and I also sat. It is a sad state of affairs when this type of criminal conduct is condoned simply because Yanez is a policeman. God help America."
Gov. Mark Dayton: "I extend again my deepest condolences to Philando Castile's family, to his friends, and to his community. Minnesotans continue to grieve with them, for their horrible loss. Mr. Castile's death was a terrible tragedy, with devastating consequences for everyone involved. I will continue to do all I can to help our state heal. There are thousands of law enforcement officers, who courageously risk their lives to protect our communities, and many other dedicated Minnesotans, who are working to correct the injustices in our state. I believe that, working together, we can make the changes necessary to secure both safety and justice, in all of our communities, for all Minnesotans."
St. Paul Mayor Chris Coleman: "Today we learned of the jury's verdict regarding the shooting death of Philando Castile. Philando was a son of Saint Paul – a graduate of Central High School, and a dedicated employee at J.J. Hill Montessori, where he was loved by his students and co-workers.  I commend Ramsey County Attorney John Choi and his staff for bringing this case – they did what they believed to be right for the cause of justice. Regardless of how you feel about the outcome, this is a difficult time in our community. Recognizing there is need for support, we will be opening the doors of community centers, schools and local gathering spaces for residents to come together for dialogue and understanding. As people across our city, state and country react to the jury's verdict, I urge each of us to move forward in a way that is peaceful and respectful of everyone – residents, demonstrators and police officers alike."
Lt. Gov. Tina Smith: "One year ago, Philando Castile's life was tragically cut short. Mr. Castile's family, his friends, and hundreds of children who looked up to him at J.J. Hill Montessori Magnet School are still grieving his loss. As Minnesotans, we mourn with them, and offer our heartfelt support as they continue to cope with this terrible loss. The pain and anger ignited by horrific events, such as this one, test our trust in one another. As Minnesotans, we can never forget. We owe it to all those impacted by this tragedy – including our law enforcement officers that work to protect us – to learn from one another. We must keep working to do everything within our power to make Minnesota a more fair and just society."
Sean Gormley, executive director, Law Enforcement Labor Services (union representing St. Anthony PD): "Law Enforcement Labor Services supports and agrees with the verdict reached by the jury in this case. Officer Yanez was forced to make an incredibly difficult decision on the evening of July 6 in a very short amount of time. He relied on his training and his experience to make that decision. However, we know this decision does not lessen the tragedy that occurred that night on July 6.  For the family and friends of Philando Castile, we understand their lives have been changed forever. In a much different way, the events of that day have also had a profound effect on Officer Yanez and his family, the St. Anthony Police Department and members of the law enforcement community. We understand this is an emotional time for many in our community. We hope the outcome of this case will lead to peaceful conversations, new understanding and some measure of healing."
Judge Glenda Hatchett, representing the Castile family: "This verdict is incomprehensible. What happened here today was a travesty. My heart breaks for the Castile family and all families throughout this nation that have been victimized by similar events. Philando Castile, an African American man, was pulled over by a law enforcement officer. Philando went above and beyond Minnesota law by alerting the officer that he had a firearm. We all know how the story ended, him being killed. These events weren't based on hearsay or speculation; there was no difference of opinion where reasonable minds should have disagreed. We watched video and audio footage of Philando being gunned down in the presence of his girlfriend and her small child while fully complying with the officer's request. John Choi, Ramsey County Attorney; Don Lewis, Special Prosecutor and the Prosecution Team: Attorneys Jeffrey Paulsen, Richard Dusterhoft, and Clayton Robinson Jr. did an excellent job in prosecuting this case.  Throughout the trial we saw a combination of talent and tenacity. Valerie Castile, mother of Philando Castile stated, "I am very disappointed in the verdict but I believe in my heart that my son's death at the hands of Yanez was not justified. He was doing everything that I taught him to do to be fully compliant. Even though Philando's death was not vindicated today, I will never stop as long as I live fighting for justice through the Philando Castile Relief Foundation. What happened today in St. Paul, Minnesota, and what message has the verdict sent?   In spite of the outcome of this proceeding, we will continue to fight for justice for all men of color who are wrongfully gunned down by those who have abused their badge. Let it be known that I believe in my heart that Yanez eluded conviction with the unjustifiable killing of Philando Castile.  Although the battle in court was lost, we will pursue justice through legislation. More extensive police training and systemic reform are essential to ending this trend of injustice."
City of St. Anthony: "The City of St. Anthony has concluded that the public will be best served if Officer Yanez is no longer a police officer in our city. The city intends to offer Officer Yanez a voluntary separation agreement to help him transition to another career other than being a St. Anthony officer. The terms of this agreement will be negotiated in the near future, so details are not available at this time. In the meantime, Officer Yanez will not return to active duty."
Minneapolis NAACP: "The Minneapolis NAACP unequivocally and in the strongest possible terms condemns the acquittal of Officer Jeronimo Yanez on all charges related to his killing Philando Castile during a traffic stop. This decision clearly illustrates the implicit bias and systemic racism that permeates our legal system. It should be unthinkable that Yanez would entirely escape accountability for his reckless and unjustified homicide, but this is what we have come to expect. This is how our system works. This verdict cannot and will not produce justice. Bias and shoddy decision-making have saturated this case from the beginning. Castile was stopped in the first place because Yanez saw his "wide-set nose," or in the words of expert witness Jeffrey Noble, "because he was a black man." Though Castile's brake light was merely a pretext, defense attorneys repeatedly blamed Castile for his own death by saying he would still be alive if his light hadn't been broken. A juror who lied about sharing police advocacy posts was allowed to remain on the jury in spite of concerns expressed by prosecutors and the judge. The defense relied on an expert witness who not only omitted crucial information on the stand, but also has an extensive track record of saying any and all police force is reasonable in numerous trials. The jury was prevented from hearing most of Yanez's BCA interview that contradicted his crafted witness stand narrative. In any system that values equity and justice, this should have been the most clear-cut guilty verdict possible. Yanez racially profiled Castile, failed to follow protocol, panicked, and shot to kill. Minnesota had a chance to deliver #Justice4Philando and instead Minnesota showed that black lives, in fact, do not matter here, and that police have free rein to kill us.
Congresswoman Betty McCollum: "The death of Philando Castile last summer was a tragedy that shook our community and our entire country. His death continues to be painful and traumatic for his family, loved ones, and the many people touched by his life. After a thorough and fair investigation, Ramsey County Attorney John Choi correctly brought this case before a jury. The trial offered transparency to the public and allowed a jury to determine legal responsibility in this case. The jury has now resolved the legal issue of criminality by acquitting Officer Jeronimo Yanez. Many Minnesotans and Americans will be disappointed, heartbroken, and angry over today's verdict. Every member of our community is entitled to their own opinion on the case — and the peaceful expression of those opinions is the cornerstone of our democracy. However, there are things we can all agree on: We must work together to build a stronger, more trusting relationship between our communities and our law enforcement. And we must truly confront racism and racial injustice in every facet of our society. As we have these important conversations, I am hopeful that the entire Twin Cities community will be respectful of one another."
ACLU of Minnesota: "The jury's decision to acquit Officer Yanez does not negate the fact that Philando Castile's tragic death is part of a disturbing national pattern of officers using excessive force against people of color, often during routine encounters. Philando Castile was one of 1,092 individuals killed by the police in 2016. Yet in most cases, the officers and police departments are not held accountable. While many officers carry out their jobs with respect for the communities they serve, we must confront the profound disconnect and disrespect that many communities of color experience with their local law enforcement.  Two Supreme Court decisions from the 1980's allow officers to use deadly force when a reasonable officer on the scene could reasonably fear for their safety. These two decisions create an atmosphere where police violence is sanctioned based on what we think a hypothetical officer could have felt, even if, in reality, the officer was acting recklessly, had ill motives or was acting based on implicit bias. Taking another person's life is the most extreme action a police officer can take, and consequently new standards are needed to better ensure that police killings happen rarely.  The ACLU will continue to fight for racial justice. We must end the prevailing policing paradigm where police departments behave more like occupying forces, imposing their will to control communities. This type of 'us vs. them' policing antagonizes many communities of color by casting a blanket of suspicion over an entire race, often under the guise of solving crime. To build trust, we need a democratic system of policing where our communities have an equal say in the way their neighborhoods are policed. Collaboration, transparency, and communication between police and communities around the shared goals of equality, fairness, and public safety is the path forward."
Education Minnesota President Denise Specht: "Today's ruling does not change two simple facts. Philando was a good man who is missed by the people who loved him and by hundreds of children and educators in the St. Paul Public Schools," Specht said. "Second, more than a 100,000 Minnesota children who look like Philando will wake up tomorrow in a society that still treats them far differently than white children. Public school educators see the damage caused by this institutional racism every day. We are in the classrooms with students and in our communities with our allies. Together, we interrupt the inequities by race, or other factors, that prevent any group of students from receiving their fair share of the 'liberty and justice for all' pledged – but not yet delivered – to every child in our country."
Minnesota House of Representatives People of Color & Indigenous Caucus: "Today the courts completed the trial to seek justice for the family of Philando Castile. We were all deeply saddened by the senseless killing of Philando, who was such an important member of his community, and we share the anguish of many who disagree with this not-guilty verdict, especially his family. The journey to healing for Philando's family, the kids who saw him every day at school, and his community certainly does not end here. We must all continue pushing to break down walls of fear and misunderstanding, to reform our legal system in the fair pursuit of justice for all, and to create a safe community for everyone in our state."