Mpls, St. Paul teachers' unions vote yes on strike authorization
(FOX 9) - Educators in both Minneapolis and St. Paul have authorized their vote to potentially initiate a strike after months of negotiations have seemingly led to an impasse.
Each district passed measures late Thursday night that move their respective unions closer to a strike becoming a reality. Although the votes don't automatically trigger a strike, it makes the potential of one a more viable option for the unions as they continue negotiations.
Results of the vote showed that educators are overwhelmingly in support of authorizing a strike in both districts. 
More than 98% of the Education Support Professional members in Minneapolis approved of the strike authorization. The union said there was a 93% turnout of the chapter's total membership with a vote of 924-18 in favor.
Additionally, 97% of the teachers' chapter voted in favor of the strike. The vote was 2,899 in favor to 92 against. The union said about 96% of the members in the teachers' membership voted.
At 7:30 a.m. Friday, the Minneapolis Federation of Teachers and the St. Paul Federation of Educators held a joint news conference to discuss next steps in negotiations.
"For decades we've watched district leaders choose not to invest in our districts and schools. We've also seen elected leaders at the top defend our schools. It's time to start making serious investments, and we're here to say that we can't afford to not make the investments we're asking for," said Greta Callahan, president of teachers chapter for the Minneapolis Federation of Teachers during the meeting. "We can no longer afford to see our districts run like a corporation with a top-down model… It's not working."
In St. Paul, more than 78% of members in the St. Paul Federation of Teachers voted yes to strike. The union says nearly two-thirds of their members voted. 
"It's my responsibility to meet the needs of our students and families, and to support all of our staff in their ability to do their jobs. I have directed my team to continue bargaining in good faith and strongly urge SPFE and SPPS leadership to do whatever it takes to avoid a strike, especially now after almost two years of disrupted learning," said SPPS Superintendent Joe Gothard in a statement following the announcement. "This vote does not mean that there will be a strike, nor do I believe that a strike is in the best interest of our students, families or staff. Now more than ever, our community needs to come together and support each other."
Minneapolis teachers have another mediation meeting with the district Friday, and FOX 9's Hannah Flood has been told they will hold off on making any decision on a strike at least until then. St. Paul teachers have another mediation session scheduled for Feb. 22
If either union does decide to go on strike, they would have to give their districts a 10-day notice.
Minneapolis Public Schools released the following statement Friday afternoon:
"At this time, MPS and the teacher and Education Support Professionals (ESP) chapters of the Minneapolis Federation of Teachers (MFT) have three scheduled meetings with the Bureau of Mediation Services. Because we are committed to reaching agreements as quickly as possible, MPS has requested additional meetings. 
We believe we have shared values with MFT and it is MPS' goal to address the needs of our students and educators." 
Although unions in each district are fighting for different things, they are both fighting for language in contracts that limit class sizes, guaranteed mental health resources for students and more resources to help students with special needs.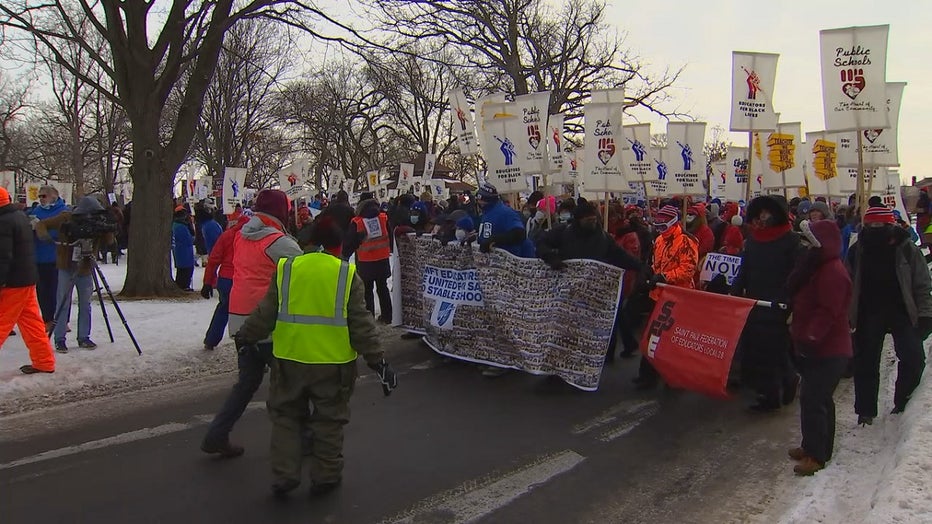 Twin Cities teachers previously rallied in support of the potential strike votes. (FOX 9)
Both districts have been going back and forth with unions – each district at times saying they don't have the funding to meet some of these demands.
Last Saturday, more than a thousand educators and supporters gathered at Minnehaha Regional Park and marched over the Ford Parkway Bridge into St. Paul for a rally.
Click for more information on the demands in Minneapolis and St. Paul.