Shooting outside Maya Hawke's concert: Mother's car hit by bullets waiting for daughter
MINNEAPOLIS (FOX 9) - A woman from Maplewood narrowly escaped harm on Sunday night when two stray bullets hit her vehicle, just missing her.
"I was just trying to pick up my kid and in the wrong place at the wrong time," said Lisa Andrews in an interview with FOX 9.
Andrews' teenage daughter, Sophia, had been excited for months to go see Maya Hawke's sold-out show at the Fine Line. She parked on First Avenue near Third Street in downtown Minneapolis while she waited to pick up her daughter.
"All of a sudden, I heard yelling. And so I just looked to my left and out came a guy with a gun. He proceeded to shoot, and I heard about 10 shots. I was just like, 'Oh my gosh, oh my gosh,' and he was shooting into the street," Andrews said.
Still sitting in her car, Andrews, a criminal justice professor, described feeling "frozen" in panic.
"That's when I heard like 'tink, tink' on my car, and I'm like, 'My car got hit,'" she said.
Within 30 seconds, she said police had her car and the area surrounded. Her daughter had been inside standing in line to buy merchandise from Hawke, who is the daughter of Ethan Hawke and Uma Thurman. Andrews shared texts she and her daughter exchanged in which she told Sophia not to come outside and said her car had been shot.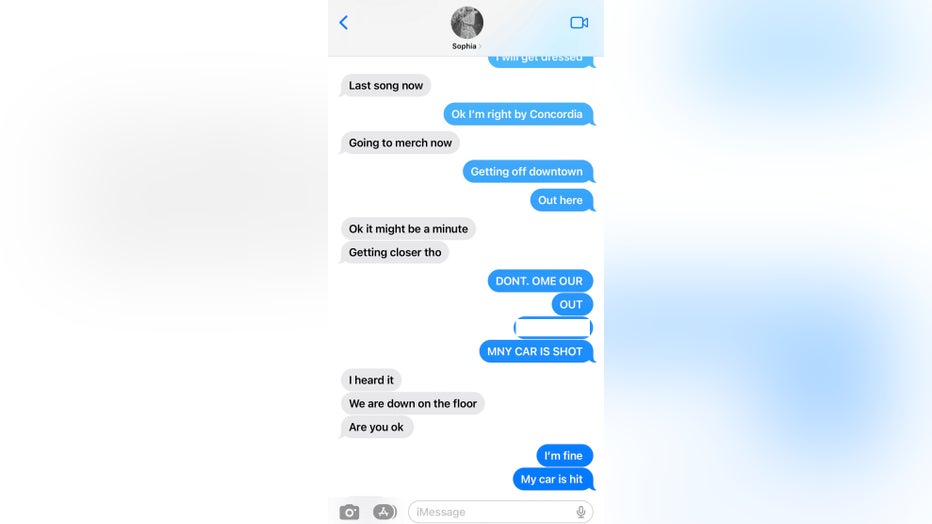 "According to my daughter, once they heard the shots, the Fine Line employees had them all lay on the floor," she said.
Minneapolis police told us Tuesday they're still investigating. But officers said a man had to be rushed to the hospital after he was shot. No arrests have been made. Police also did not indicate any connection between the shooting and the show. 
"It is a little concerning to me that they haven't caught the person," Andrews said.
She and her daughter are grateful they weren't injured, but two days later, they're still on edge.
"When I found the bullet hole, I'm like, 'Oh my gosh. Oh my gosh. That is so close,'" she said.
Her teenage daughter, who is a big fan of indie music, feels hesitant to ever find herself in a similar situation again.
"As soon as we got in the car and we were driving and she stopped crying, she goes, 'That's the last time I'm going to a show in Minneapolis,'" she said.