Minnesota's THC market: Lab analysis reveals many products aren't what they claim to be
ST. PAUL, Minn. (FOX 9) - Many THC edibles for sale on Minnesota's shelves contain THC levels well beyond what's currently allowed by state law, according to a lab analysis commissioned by the FOX 9 Investigators.
The legal hemp-derived THC market in Minnesota currently lacks any regulation, which has led to a "wild west" mentality in the market.
While state lawmakers are poised to legalize cannabis in Minnesota, low-level hemp-derived THC edibles including gummies, chocolates, and drinks have already been legal for almost a year.
However, when lawmakers legalized the low-dose THC market, they did so without establishing any rules, which created an unchecked industry with virtually no accountability.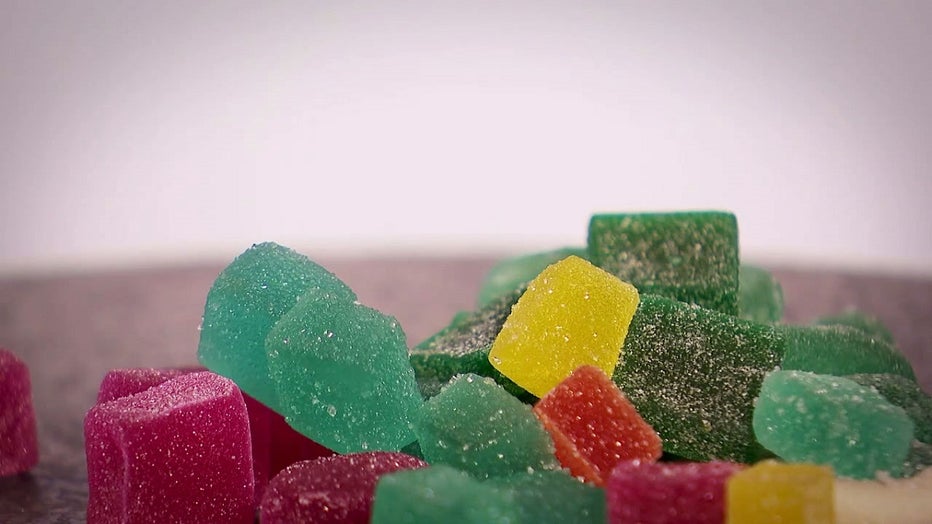 Hemp-derived THC gummies in Minnesota (FOX 9)
Unlicensed and lacking accountability
It's unknown how many companies are currently selling THC products throughout the state. However, some Minnesotans have already fallen victim to the unregulated industry.
When Tony Irani encountered a Blaine police officer last October to file a report on one incident, the body camera footage captured his state of confusion as he recounted his story.
The 72-year-old diabetic said he "was experiencing low blood sugar" at a tobacco shop and "asked if they had any candy," according to a report filed with the state.
Irani told the FOX 9 Investigators what he got was not normal candy but a handful of THC edibles, which he said disoriented him and landed him in the hospital.
"I took about six or seven right away," Irani said, adding that the workers never informed him the candies contained THC, which is the psychoactive ingredient found in cannabis.
Irani filed complaints with police, the state attorney general, and the Minnesota Board of Pharmacy – all to no avail, since there's currently no regulation or oversight of the THC marketplace.
"There's supposed to be some rules for this stuff," Irani said. "I don't want it to happen to somebody else."
Irani's story is just one example of how an unregulated THC market can leave someone vulnerable and with no options for seeking accountability. However, there are other major concerns, including a lack of testing, quality control, and a lack of enforcement throughout the THC industry in Minnesota.
Not all products are what they claim to be.
According to current state law, each edible sold is supposed to only contain a small amount of THC. However, a blind test and analysis conducted for the FOX 9 Investigators reveal not all products are what they claim to be.
To truly understand the state of the market, the FOX 9 Investigators conducted undercover site visits to Twin City area shops that sell low-level hemp-derived THC products. None of the businesses are required to have a license to sell THC edibles and each piece is legally only supposed to contain up to 5 mg of THC.
The FOX 9 Investigators gathered five different types of THC gummies sold at shops throughout the Twin Cities metro and prepared them for a blind test. Each sample was separated into generic containers and labeled "A" through "E" to maintain the anonymity of each product. 
SEE MORE: Test results for Samples A, B, C, D, and E
Lab technician Johanna Holloway of Fina Analytics conducted the blind test, using a complex process to determine how much THC was in each product. 
"Companies need to be held accountable because there's just bad actors," Holloway said.
The original packaging for Samples "A" and "D" both advertised 5 mg of THC per piece, which is the max allowed by state law. The lab test confirmed both samples were pretty close to hitting that mark.
However, the remaining three samples did not contain the levels claimed on the packaging. In fact, Sample "E" was the worst offender – with THC levels measuring more than six times what is supposed to be legally allowed, with 32 mg of THC per piece.
One product showed potency results lower than what's actually listed on the packaging. However, Holloway suspects there were likely synthetics added to the product that were not listed on the label, highlighting another example of how customers have no idea what they're really getting.
60 Complaints on THC products
Over the past year, the Minnesota Board of Pharmacy is the only agency with some very loose oversight of the existing THC market. 
"We need licensing, we need taxation, better regulation and enforcement," said Jill Phillips, executive director of the Board of Pharmacy during a December press conference. 
So far the agency has received nearly 60 complaints related to THC products, which have largely resulted in warning letters.
The board's only major action is a lawsuit against a Moorhead-based company called Northland Vapor after five Des Moines high school students were sickened after eating a small amount of THC gummies. The agency seized $7 million in product, claiming they had as much as 50 times the legal limit in THC.
In a statement, Northland Vapor's attorney criticized the state's actions as "hyper-aggression" and a "regulatory overreach."
A Legislative Fix 
At the Minnesota state capitol, Sen. Lindsey Port (DFL) is sponsoring legislation to legalize marijuana. Her bill would also establish new regulations and create an oversight agency, which would also have authority over the existing low-dose THC market. 
"It is not regulated and safe. We cannot guarantee what is in that, what the levels are," Sen. Port told the FOX 9 Investigators. "That is really one of my biggest arguments for legalizing is we need a regulated, tested industry that puts out a product that is safe that you can trust."
Sen. Port is banking on the DFL-controlled Legislature to legalize cannabis by the end of May. However, it would likely be another 12 to 18 months before Minnesota is ready to roll out the new marijuana market while also reigning in the existing THC edibles market. She said temporary regulations would be key to bridging the gap for the existing THC market. 
"I am working as hard as I can to shrink that gray area. We've been talking with folks who do testing. We don't have capacity in Minnesota right now, is part of the problem," said Sen. Port. "We don't really have the testing infrastructure because we have such a small medical marijuana program that really we need to scale that up." 
"My goal is to have really strong testing option for folks up within 60 days," Sen. Port said. 
Versions of the cannabis bills gained approval from both the House and Senate last week. The next step for the legislation is a conference of the bills to merge them before ultimately sending to Governor Walz for signature. Earlier this month, Walz indicated he would sign it.