Minnesota weather: Storms turn to heavy snow; blizzard warning in effect
MINNEAPOLIS (FOX 9) - Storms and rain Friday evening have begun to transition to snow as a blizzard warning is in effect in the Twin Cities.
Timeline of what to expect: Blizzard warning for Twin Cities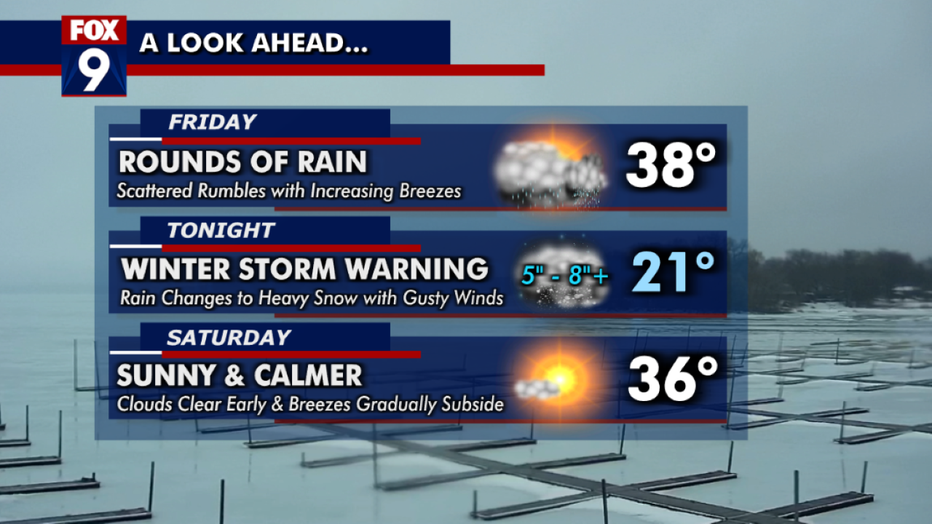 Here's a timeline of what to expect with Friday's winter storm.
There will be rounds of rain on Friday with scattered rumbles and increasing breezes. There will be some large breaks in the rain through the afternoon, before precipitation returns in abundance into the evening commute. The high is 38 degrees in the Twin Cities.
After the sun sets Friday, the rain will turn to heavy snow with gusty winds and an overnight of around 21 degrees. A blizzard warning is in effect from 11 p.m. Friday to 7 a.m. Saturday for the Twin Cities (blizzard warnings for the metro are quite uncommon), as well as much of central and southern Minnesota. The area could see pockets of heavy snow, gusty winds and difficult travel. 
The combination of falling snow and strong winds will lead to difficult travel starting late Friday afternoon in western Minnesota, moving eastward Friday evening and Friday night. Expect whiteout or near-whiteout conditions at times, especially in open areas. 
Improvement in conditions is expected quickly early Saturday. Clouds will clear early on Saturday, and the day will be sunny and calmer with a high in the mid-30s in the Twin Cities.
Here's how much snow we'll get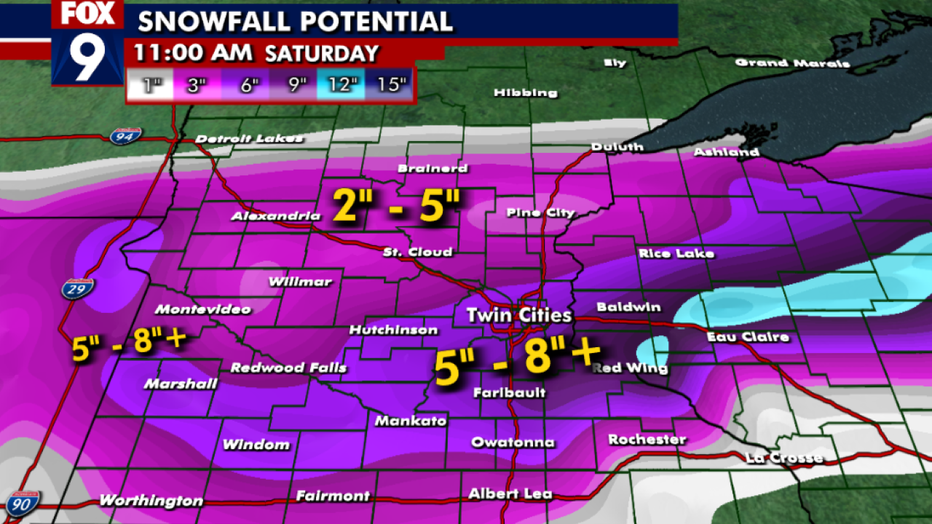 Estimated snowfall totals with Friday's winter storm. (FOX 9)
Snow totals will vary because the heavy, wet, sloppy snow will be actively melting as it falls and will compact on itself. Plus, there will be 40-50 mph wind gusts. 
Rain will eventually switch over to snow across the area from northwest to southeast. Some points to keep in mind:
Strong winds will accompany our falling snow making it difficult to accurately measure.
The exact transition from rain to snow will vary and could have big impacts on how much we get. Generally, the earlier the rain transitions to snow in the Twin Cities, the more we could get. Expecting rain to switch to snow around or after sunset.
This snow will be very heavy and wet, leading to some compacting and melting as it falls, so it will be more difficult to pile up — but the amount of liquid in that snow will be huge.
While plowing and shoveling will be done early Saturday, the best part of essentially April snow is that it will melt fairly fast, so you don't have to necessarily clear the snow at your residence as much of it could be melting after just a few days. But to each their own.
Because of all the previously mentioned variables, snow totals will be splotchy across the area meaning the amount received from neighborhood to neighborhood could vary wildly.
We need 3.8 inches of snow at Minneapolis-St. Paul International Airport to move into the top five snowiest seasons on record. There is a pretty good chance we do that.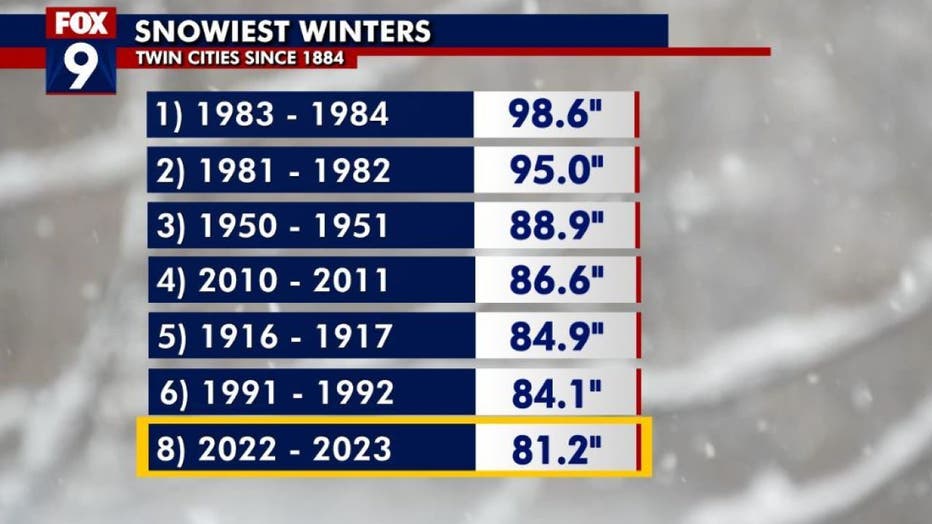 Looking ahead: The 7-day forecast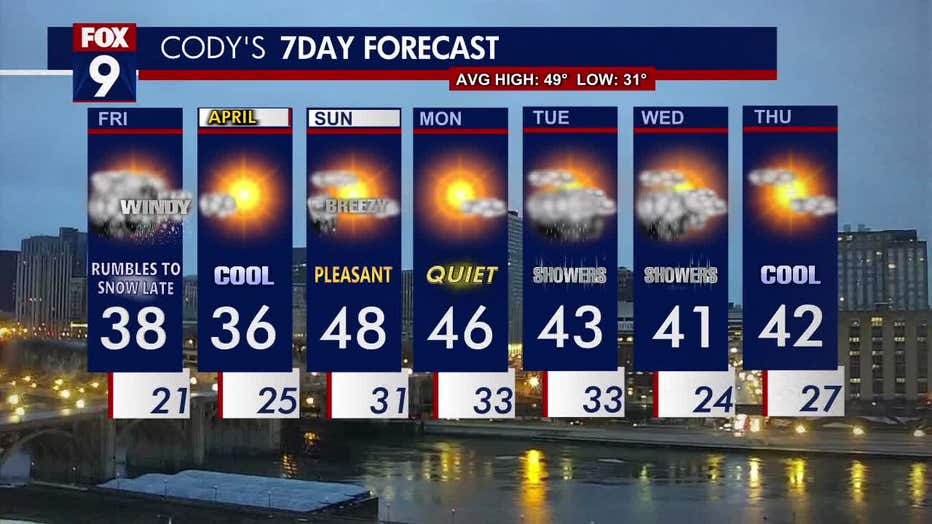 The seven-day forecast. (FOX 9)

Saturday will be sunny and cool, with a high of 36 degrees. Sunday will be warmer and pleasant, with a high of 48 degrees. 
Rain showers are in the forecast for early next week. 
The average high this time of year is 49 degrees in the Twin Cities metro, while the low is 31 degrees.