Minneapolis pow wow singer shines spotlight on Indigenous art form
MINNEAPOLIS (FOX 9) - At the Cedar Cultural Center on the U's West Bank, Ojibwe culture is taking center stage.
Joe Rainey is rehearsing for one of his first shows in his hometown, which will showcase both his musical evolution, as well as his indigenous roots. 
"Growing up in Minneapolis is the foundation of who I am and what I do. Getting to come back to my home neighborhood and perform something I created in private with my friend, it's really special for me to perform it for the people who most likely saw me grow up here in the neighborhood," said Rainey.
Rainey's style of singing is tied to the traditions of Native American pow wows, but its sonic backdrop is much more modern.
His wordless melodies sound as ancient as his people, but instead of being accompanied by a drum circle, his vocals float on a bed of synthesized rhythms, samples of old pow wow audio recordings, and almost cinematic string arrangements.
"Unique. In its own lane. I know it's been described as avant-garde. I don't think there is any word in Ojibwe to describe what avant-garde is," said Rainey.
Rainey grew up surrounded by pow wow singers just a few blocks from the American Indian Cultural Corridor on Franklin Avenue in South Minneapolis.
Being a member of the Red Lake Band of Ojibwe, he started singing in several drum groups over the years and eventually traveled to compete in pow wows across the country.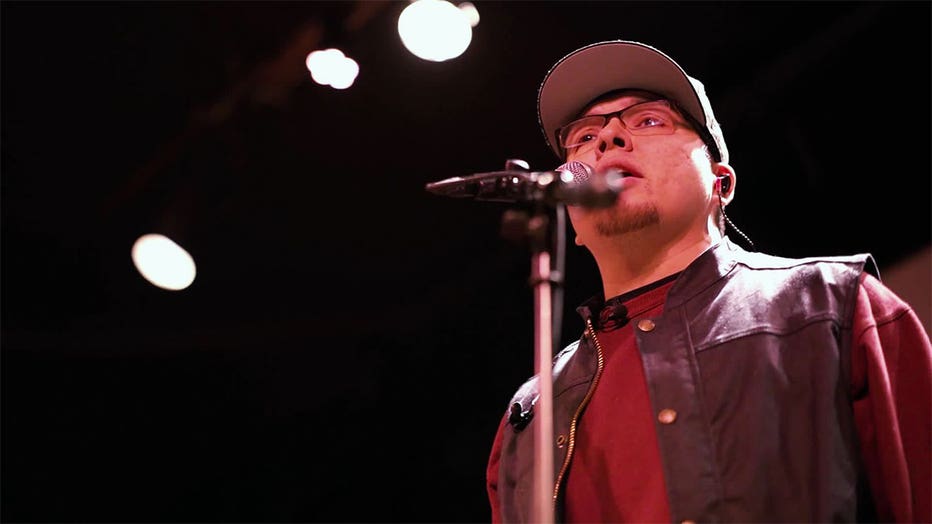 "Some people think it's difficult for an urban Indian to survive here with less culture at their fingertips, but I think pow wow is a great way to really step into your culture and take hold of your spirituality at the beginning of it," said Rainey.
While singing with one of those groups, Rainey crossed paths with Justin Vernon of Bon Iver at the Eaux Claires Music Festival in Wisconsin.
The two bonded over Rainey's library of 100s of pow wows he's been recording since he was 8, and he eventually got to sing what he calls 'Native American riffs' on tracks by Bon Iver and Chance The Rapper.
"That was the start of having those pinch myself moments of when I had to think about what I'm doing and how big an impact I'm having. It might be quiet at first, but I'm on a different trajectory," said Rainey.
Rainey's experience with Vernon prompted him to create his first album, Niineta, which was released last summer and means "just me" in Ojibwe, with Minneapolis producer Andrew Broder.
Rainey says the project was an opportunity to stretch his creative muscles while introducing pow-wow music to a new audience.
"Teaching people about the song form and why they are hearing the same thing over and over. There's a reason for that. There's also a reason for explaining that I'm not saying anything in the album. I'm not saying words. There's no language in it at all except in the title. So there's some knowledge to be gained there about pow wow singing," said Rainey.
For his show at the Cedar, Rainey played with a string quartet, Owls, live for the first time.
"We wanted to make this very emotional for the listener. Even for the people who listen to it and throw it away, that's cool with us. We wanted it to resonate with people it has resonated with. That was the only intention we had finishing the album with the samples and live strings and developing the whole vision that Broder had," said Rainey.
Rainey says increasing representation of indigenous artists in media and pop culture is another benefit of his work.
He hopes it inspires other Native American young people to follow in his footsteps while preserving the history of his favorite art form for generations to come.
"Creating the album and what it means. Don't be afraid to step outside that box. That's always a phrase. Someone has to do the act of stepping out of the box and that is what I'm doing and this is what I'm doing it with," said Rainey.