Man championed by Maya Moore released from prison after wrongful conviction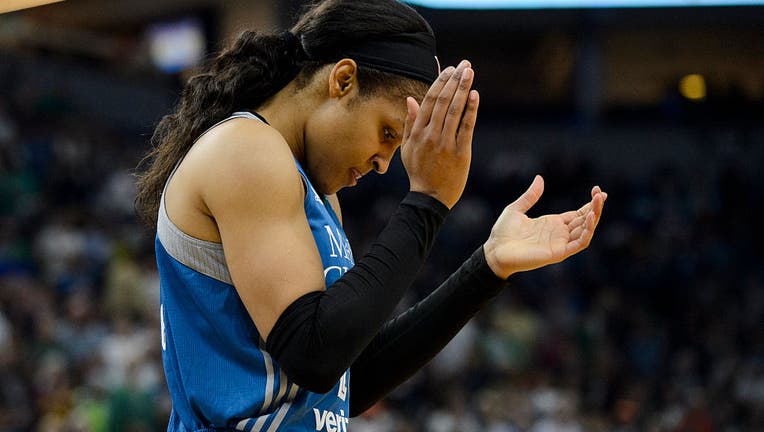 (FOX 9) - Minnesota Lynx star Maya Moore is celebrating after the man she worked to release from prison due to a wrongful conviction is now free.
Jonathon Irons, a family friend, had been convicted in 1998 for burglary and assault. He was serving a 50-year prison sentence. Moore championed his cause, believing he had been wrongfully convicted. She sat out the 2019 WNBA season to focus on his case and had planned to sit out in 2020 before the COVID-19 pandemic postponed the season.
In March, a judge overturned Irons' convictions.
Wednesday night outside a prison in Missouri, Moore streamed live on Instagram the emotional reunion between Irons and his family members.
"I feel like I can live life now. I'm free, I'm blessed," said Irons in the video.
Irons was wearing a face mask made by his friends in the prison, which had #HOPE written on it.
"I thank everybody that supported me, Maya and her family, to be home, to have somewhere to be home, I'm so grateful," he said.
Moore stepped away from the Lynx and the WNBA last season, in arguably the prime of her professional basketball career, to pursue ministry and social just causes, including Irons' release from prison. She was nominated for the Muhammad Ali Sports Humanitarian Award at the ESPY's for her efforts in social justice, which went to Minnesota Twins slugger Nelson Cruz.
Cheryl Reeve, Lynx head coach and general manager, released a statement Thursday morning on Moore helping get Irons free.
"Maya Moore got to celebrate another championship yesterday and none of us who have been blessed to have Maya in our lives are surprised. I cannot imagine, however, what this one must feel like. I was overwhelmed seeing Maya watch Jonathan Irons walk out of the Jefferson City Correctional Center a free man. For the last few years we watched as she gracefully committed herself to Jonathan's case, and as she has done so often on the basketball court, put the Irons team on her back. I am overcome with joy that Maya and all involved were able to reach their goal of Jonathan's exoneration.
I also can't help but feel a great deal of anger. Maya Moore should never have had to leave her profession to engage in the fight against the two-tiered criminal justice system that over polices, wrongfully convicts, and over sentences black and brown communities. The criminal justice system in America is so far from fair and equal and it angers me that Maya has had to sacrifice so much to overcome this racially disparate system.
On behalf of the Lynx organization, we are so proud of Maya for earning the biggest win of her career. I am sure that she was voted MVP of this championship, too. This time there is no hardware to take home to the trophy case, just a wrongfully convicted black man walking free."
 Moore is not expected to play with the Lynx when they start a 22-game season in late July in Florida.