Last day of nurse strike against Allina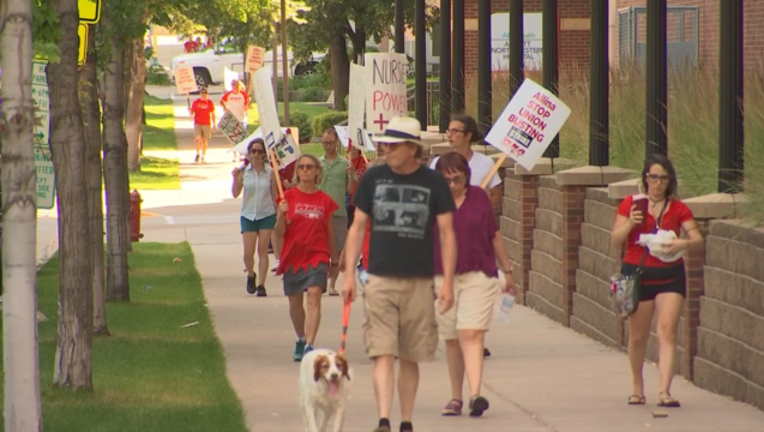 MINNEAPOLIS (KMSP) - The Minnesota Nurses Strike Association weeklong strike is coming to a close.
On June 19, about 4800 nurses started picketing outside four hospitals and the Phillips Eye Institute.
The strike started because Allina and its nurses couldn't come to an agreement over a new three-year contract. One of the points of contention is a possible change to nurses' health insurance.
Allina hired more than 1,000 replacement nurses to work during the strike.
On Friday, the MNA alleged that one patient died due to a medication error. Other allegations deal with poor disposal of needles.

Allina officials said all the allegations that were investigated turned out to be false.
Striking nurses are expected to return to work Sunday.
In an Allina press briefing, Allina Health President and CEO Dr. Penny Wheeler said they are "well-prepared to make the transition [of nurses returning to work] as seamlessly as possible."
"After tomorrow our attention will again return to getting back to the bargaining table, having a constructive dialog with the union, and reaching an agreement that is fair and sustainable for all," said Wheeler.
Representatives from MNA have expressed frustration that Dr. Wheeler has not appeared at negotiations meetings since they began in February. Nurses sent out a list of questions to be answered to Allina leaders.
"We're here because Allina won't talk about our proposals and won't give us the information we need to address their proposals," said Angie Becchetti, a nurse at Abbott Northwestern Hospital in Minneapolis.  "They're just not talking, even though we've heard they're holding press conferences every day. They've told the reporters things they won't tell the nurses. That's not fair negotiations."