Janitors strike wages in downtown Minneapolis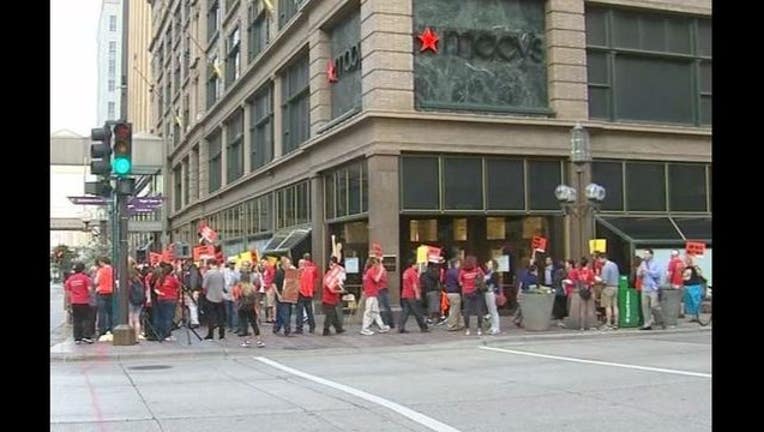 article
Janitors who clean over 50 retail stores around the Twin Cities walked off their jobs early this morning to strike outside the Macy's in downtown Minneapolis -- this comes just weeks after a lawsuit claimed wage theft by a company contracted to clean big box stores like Macy's and Herberger's.
"I have worked for fourteen years in the industry, and I only make nine dollars an hour," Jose Cabrera, CTUL member and employee of Carlson Building Maintenance who cleans a Target store, said. "At this pay I am forced to work a second job. This takes a huge toll on my health."
The strike also comes as a report titled "Held Up Without a Gun" was released -- highlighting "the growing crisis of wage theft that is facing workers all over the state."
"The industry-wide actions come as we reach the 25th Anniversary of the famous Justice For Janitors campaign, a movement that has lifted the standards for hundreds of thousands of janitors across the country, including thousands here in Minnesota," SEIU Minnesota (Service Employees International Union) said in a press release. "As the Fight for 15 movement heats up across the country, local janitors who have unionized with SEIU Local 26 have won wages at the $15 level, with improved benefits and working conditions."
The janitors who gathered in Minneapolis included those who clean Macy's, Sears, Home Depot, Kohls, Lunds & Byerlys, car dealerships, Herberger's and other big box stores. 
"I am going on strike because my employer, Capital Building Services Group, is cheating us," Duniyo Hussein, who cleans the Macy's at the Mall of America for CBSG, said. "$8.00 an hour is not fair for the work we do. We work hard. In the United States, no one should make such a low wage. I am going on strike so we can win fair wages and more rights at our job."
Around 8 a.m., the workers will join a group protesting at the Best Buy shareholders meeting in Richfield to call on the corporation "to stop opposing popular legislation like Earned Sick and Safe Time and Paid Family Leave that will help working families if they are passed at the local or state level."