Highway 77 in Eagan reopens after multi-vehicle crash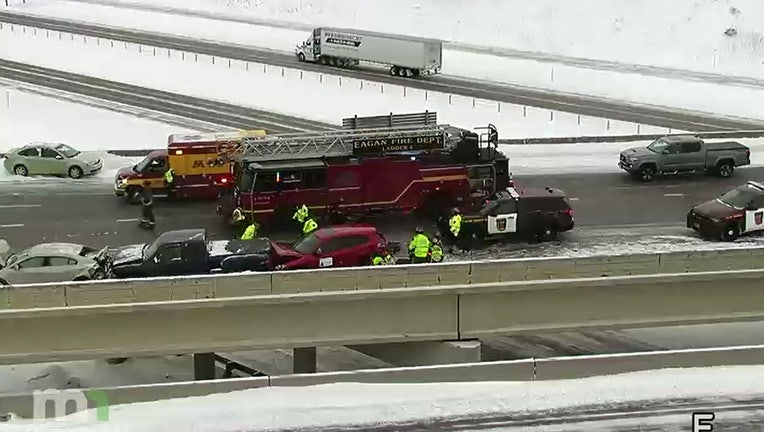 article
EAGAN, Minn. (FOX 9) - Traffic was being diverted after a multi-vehicle crash closed a stretch of Highway 77 in Eagan Wednesday morning. 
The Minnesota State Patrol said four vehicles were involved in a crash around 8:40 a.m. on northbound Highway 77 near Interstate 35E in Eagan. Two vehicles, a Nissan Rogue and Buick Lacrosse, crashed into each other and moved to the left-hand side of the road. A Chevy Silverado then lost control and rear-ended the Buick, which crashed into the Nissan again. A fourth vehicle then rear-ended the Chevy. 
The driver of the Buick was outside the vehicle at the time of the second crash and was hit by the vehicles, the report said. The extent of the injuries have not yet been determined. 
The crash closed a section of the highway and traffic is being rerouted away from the scene until first responders are able to clear all the vehicles involved in the incident. 
Road conditions were icy Thursday morning following the first round of snow in a two-wave winter storm system. 
The Minnesota State Patrol says that between 3:30 p.m. and 7:30 p.m. they responded to 30 crashes, 30 vehicle spinouts and one jackknifed semi.
MnDOT has said it will have its plows working 24 hours a day but cautions to limit travel and work from home if possible. 
This is a developing story, check back for updates.