Found skinned bear paw resembling human hand gives local trash hauler a scare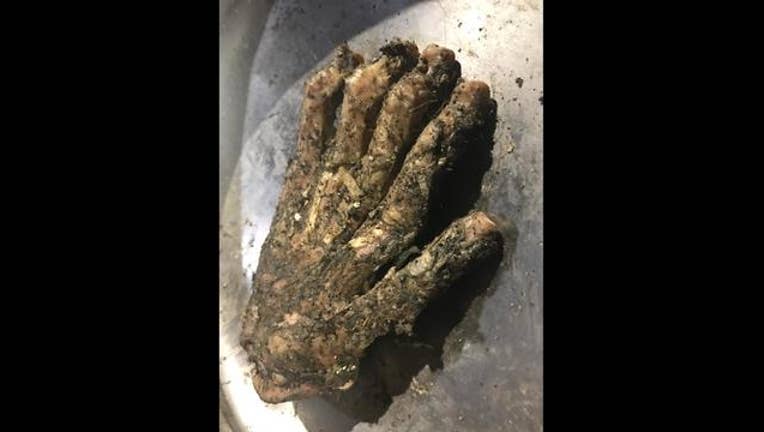 ALEXANDRIA, Minn. (KMSP) - When the Stearns County sheriff's office received a call from a garbage hauler about the possibility of a human hand found in the trash, they were understandably concerned.
While the object they discovered in the Pope/Douglas Solid Waste Management Plant eerily resembled a human hand, it was not. Instead, Stearns County Investigators found the hand was a skinned bear paw that was placed in the trash.
The call came in at 3:21 a.m. Tuesday morning after the item was picked up from one of the routes in Stearns County. The workers who found it thought it to be a real human hand.
The plant immediately stopped all burn operations and the Douglas County Sheriff's Office and the Alexandria Police Department to investigate.
The paw was taken to the emergency room at Douglas County Hospital where it was examined by a doctor. Meanwhile, investigators questioned the driver of the truck and the executive director of the waste management plant.
It was after the doctor examined it that they got word the hand was not human, allowing everyone a "sigh of relief," the sheriff's office said in a newsletter.
"It was pawsitively a surprising set of circumstances and it was initially a grizzly find but thankfully we got our bearings and determined there was no real issue," they wrote.