Family shares different side of story after weapons found in home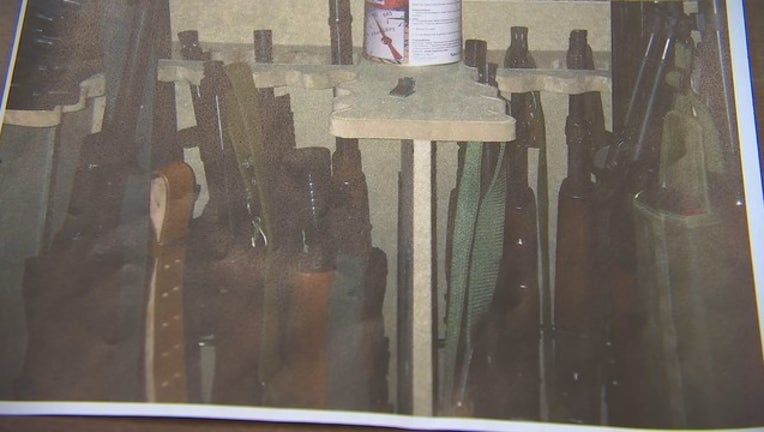 article
ST. PAUL, Minn. (KMSP) - Parents of a student who made a threat toward another student at the Academy for Sciences and Agriculture in Vadnais Heights, Minnesota were arrested Friday after authorities uncovered a cache of firearms, ammunition and explosives in their home. 
The arrests were initiated in the afternoon at Christopher and Lisa Stowe's front door, while they were away from the home, and their 13-year-old son, who suffers from autism, was alone inside. 
"There's a knock on the door, swat's outside, I don't know how many officers, the whole block's blocked off, there's a helicopter over the top of the house, there's a sheriff yelling through the door 'if you don't open the door I'm going to knock it down,' to a 13-year-old with autism inside," the teen's grandfather, Mark Stowe, told Fox 9 by phone Sunday. 
Mark considers the arrests a violation of the family's civil rights. 
"It's motivated on a prejudice and this has violated our second amendment," Mark said. 
Mark, who is halfway across the country in California at his ailing sister's side, also said his grandson, who has autism, was wrongfully arrested for allegedly making terroristic threats against another student inside the school. 
"Three innocent people are sitting in jail right now," Mark continued. 
The ordeal started Wednesday when Christopher was called to the school, after the teen's alleged threats, Mark told Fox 9. 
He went on to explain the family's side of the story, "One of the kids looks at [my grandson] and says, 'Hey… would you bring a gun to school? And he says, 'No I wouldn't do that—I'd just shoot up the school. Hahaha.'"
After the administration met with the teen and his father, he was suspended for two days. 
But on Thursday, a parent of a student who was allegedly threatened called the Ramsey County Sheriff's Office. Deputies stopped by the Stowe's house and found the teen home alone. 
"The 13-year-old male suspect was found home alone," Ramsey County Sheriff Jack Serier said at a press conference Friday. "In the home, a cache of weapons was found, along with at least one ballistic vest, thousands of rounds of ammunition and at least one explosive device." 
Mark said the suspension was why his grandson was home alone in the first place. As for the weapons—they're family heirlooms, he said. 
"The sheriff is saying we're terrorists. We're terrorists? It's my dad's 74 years of collecting," Mark said. "Google 'Stowe'—you heard of Harriet Beecher Stowe in 'Uncle Tom's Cabin'? That's a great, great aunt. I mean, you know, we're the good guys." 
Nonetheless, Mark's grandson remains in juvenile detention and the teen's parents in jail for negligent storage of a firearm. 
"The district attorney can stand up and be the hero on this thing and we'll go away with a bloody nose, and they'll go away with a bloody nose. I'm a Christian man—this goes away, so will I. But I tell you, what if it doesn't? Fire is coming down from hell," Mark warned. 
Meanwhile, Mark remains in California with his sister who suffers from ALS. He said his son Christopher missed out on a planned trip to California to be at her side this weekend before she dies. 
"Somebody with good intentions didn't follow procedure and this whole tragic incident happened, in the meantime, my sister's dying, my son will not be able to see her before she dies, and then all of this is going on, emotional trauma to my grandson, come on?" 
As of Sunday night, no charges were filed against the teen or his parents. 
In a statement sent to parents over the weekend Becky Meyer, the executive director of AFSA High School, wrote: