Endeavor Air and CAE expand Eagan Training Center to meet demand for air travel
EAGAN, Minn. (FOX 9) - Endeavor Air and the CAE Minneapolis Training Center are cutting the ribbon this week on a newly expanded facility to train more pilots to meet the strong post-COVID demand for air travel.
"Well, I don't think air travel is going anywhere but up," said Brian Darvell CAE's training center leader.
CAE is the world's leading developer of flight simulators for the airline industry. Its newly expanded training center in Eagan now holds three simulators for Boeing 737's and seven simulators for the CRJ-900 regional jet, which is the primary aircraft flown by Endeavor Air. Endeavor is a subsidiary of Delta Air Lines which brands all of Endeavor Air's aircraft as Delta Connection flights. Endeavor has 124 CRJ-900's that make 700 flights a day connecting passengers to Delta's destinations.
"CAE Minneapolis, is now the largest CRJ training center in the world," said Darvell. The CRJ is not only the most common regional airliner flown in North America, but also across the globe. That makes this new facility critical to Endeavor Air.
"So this facility sees about 2,000 pilots come through here every single year," explained Doug Hadley, Endeavor Air's managing director of flight operations administrator.
Endeavor Air can now train up to 100 pilots a month. It actively recruits pilots who already have a minimum 1,000 hours of flight experience and then spends two to three months training them for their first commercial flights. Endeavor Air has classes starting every two weeks and it's currently booked through the end of the year.
"They have about a four year lifetime with us and then an opportunity to go on to Delta," explained Hadley.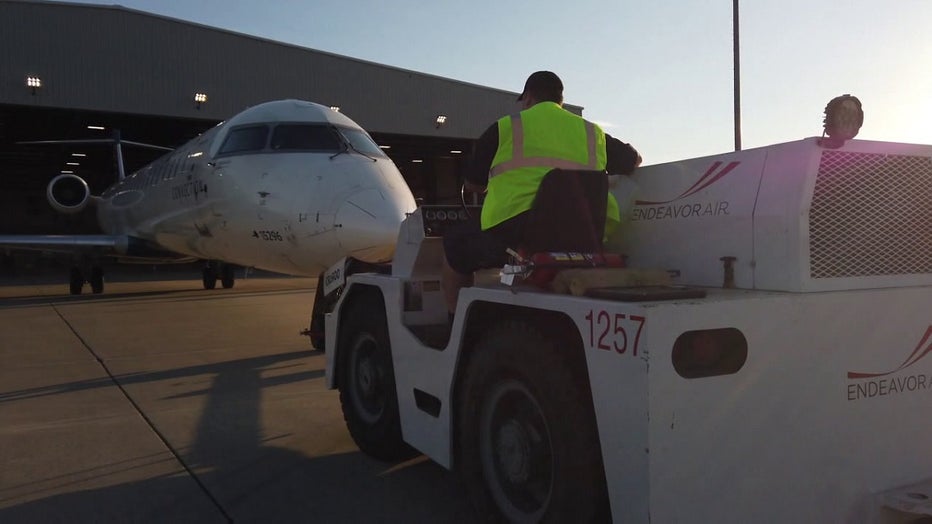 Expanded flight training Endeavor Air and the CAE Minneapolis Training Center are cutting the ribbon this week on a newly expanded facility to train more pilots to meet the strong post-COVID demand for air travel.
The training facility expansion comes at a critical time for the airline industry as it ramps up to meet the demand for pilots and flight attendants. A recent report from the consulting agency Oliver Wyman estimates a shortfall of 17,000 pilots in 2023. That gap is expected to grow to 24,000 in 2026.
"There's definitely a lot of demand for training pilots by all airlines globally," said CAE's Darvell. "And so we opened training centers like this in locations that the airlines need the training to be done just to meet that demand and keep up with training pilots to be safe and the best pilots they can be."
In addition to pilot training, Endeavor Air has moved all of its flight attendant training to Eagan. At its own learning center, Endeavor Air just moved in a cutaway fuselage from a CRJ-900 airliner to offer flight attendants a realistic training environment.
"I'm so proud of this," said Patty Allen, Endeavor Air's VP of inflight services about their new cutaway fuselage. "This simulator can simulate smoke in the cabin. It can do decompression, rapid decompression, where you have things flying around and you need people seat belted."
Allen explained that with more than 5,000 employees including pilots and flight attendants, almost every employee will find their way through the
Eagan learning center at some point. Safety is the number one priority, but with the rising demand for air travel, she says providing a great customer experience is also at the top of their list.
"We're part of the travel experience for a lot of people," explained Allen. "It doesn't start when they land at their destination. It starts when they get on a plane."
It's why Endeavor Air believes this new expansion will help them not only grow the airline, but meet the growing demand for air travel.
"We're putting a lot of time and effort into producing customer-friendly and proficient and safe pilots," said Hadley.