DoorDash driver assaulted in Shorewood says customer shouted 'Go back to your country' at him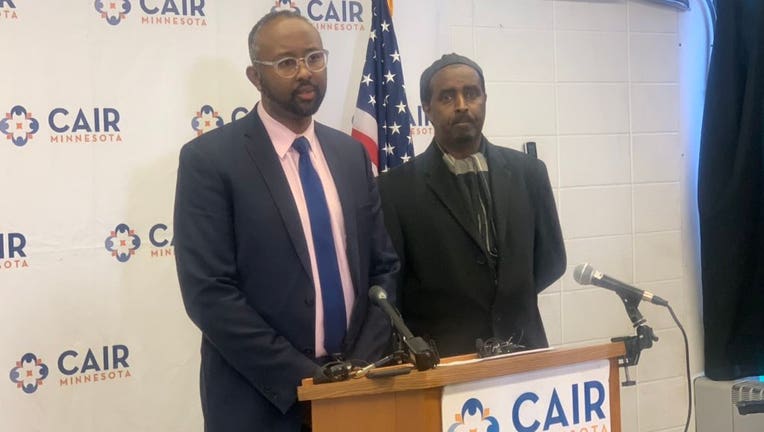 article
SHOREWOOD, Minn. (FOX 9) - A DoorDash food delivery driver says he was repeatedly hit by a Shorewood, Minn. customer who shouted, "Go back to your country," at him among other things.
According to the South Lake Minnetonka Police Department, officers responded to a home in Shorewood on Sunday, Oct. 27 just before 10 a.m. for the report of an assault.
Police say the customer was dissatisfied at where the driver left the food order. The customer, a 54-year-old, was arrested and booked for fifth-degree assault. The incident is still under investigation by police.
Thursday, at a press conference hosted by the Council on American-Islamic Relations (CAIR), the delivery driver claimed he was told, "Go back to your country," among other Islamophobic, xenophobic and racist slurs.
CAIR says a bystander came to the aid of the driver, who spoke to the media Thursday. The driver, Haarun Galbayte, said he was still shocked the assault happened to him.
At the press conference, Galbayte said the attacker punched him in the head three times and then elbowed him while shouting at him.
"I still am shocked about what happened to me at that day," said Galbayte.
Galbayte has lived in Eden Prairie for 22 years. He says he used to drive a taxi, and now he delivers for DoorDash. On Sunday, October 27, around 9:15 in the morning, Galbayte was fulfilling a delivery on the 5000 block of St. Albans Bay Road when he says he was attacked.
"He said go back to your country and I said, 'I'm from Eden Prairie.' And he said, 'You're not from Eden Prairie. You have to go back to where you came from.' After that, he started to punch two, three times and I parked the car.
Galbayte says it all happened after he dropped the food off to a house he'd been to several times before. He says he even spoke on the phone with a woman who lived there before the attacker came out punching him repeatedly while he was trying to leave.
"When I talk to the woman there, she nicely said thank you," explained Galbayte.
Galbayte says after his attacker left, a neighbor came to help him before police arrived, later arresting the man and charging him with fifth-degree assault.
"I think this is a hate crime," said Galbayte. "If he says go back to your home."
Thursday, CAIR also saying they feel this was a hate crime urging prosecutors to enhance the charges.
"Unfortunately, we are living in a time where these types of cases where Muslims and immigrants are coming under attack by individuals for whatever reason," CAIR Minnesota Executive Director Jaylani Hussein. "We need a greater awareness about hate crime, it is up, it is dangerous."
Though he now knows that danger first-hand, that danger is now more prevalent for Galbayte than ever. He says he'll continue driving for DoorDash while seeking justice against the man he says attacked him.
The South Lake Minnetonka Police Department's release did not include details about what the suspect said to the victim. The department said, at this time, it was taking further questions on the incident and further information isn't available.