Community mourns loss of 2 Wisconsin police officers killed in the line of duty
BARRON COUNTY, Wis. (FOX 9) - Thousands of people came to say goodbye to two western Wisconsin police officers who were killed in the line of duty earlier this month. 
Officer Emily Breidenbach and officer Hunter Scheel were fatally shot during a traffic stop on April 8. The community came together to mourn the lives that were lost during a funeral service at Cameron High School Saturday afternoon. 
"It's horrible. It really hurt. It's an emotional day and very sad," said Pat Gulczynski who attended the service. "It's horrible to lose two of them this close together from two different communities right next to one another."
After the touching service, there was a police honors ceremony with hundreds of fellow law enforcement members sending off one of their own. The procession with cars stretching for miles then made its way through Barron County, so the community could say their final farewell. 
People who both knew the fallen officers and those who didn't come to show their support and say goodbye to Breidenbach, a five-year veteran of the Chetek Police Department, and Hunter, a police officer for the small village of Cameron, who served to protect their communities. 
"It was devastating. Emily was a friend of mine. It's been a rough week for all of us," said Barry Humphrey. 
Memorial funds for the officers have been set up at two banks in the communities they served. A check can be for Scheels memorial fund to  PO Box 457, 101 W. Main St. Cameron, WI 54822. Donations to Breidenbach's fund can be sent to Sterling Bank, 427 Second St., PO Box 106, Chetek, WI 54728.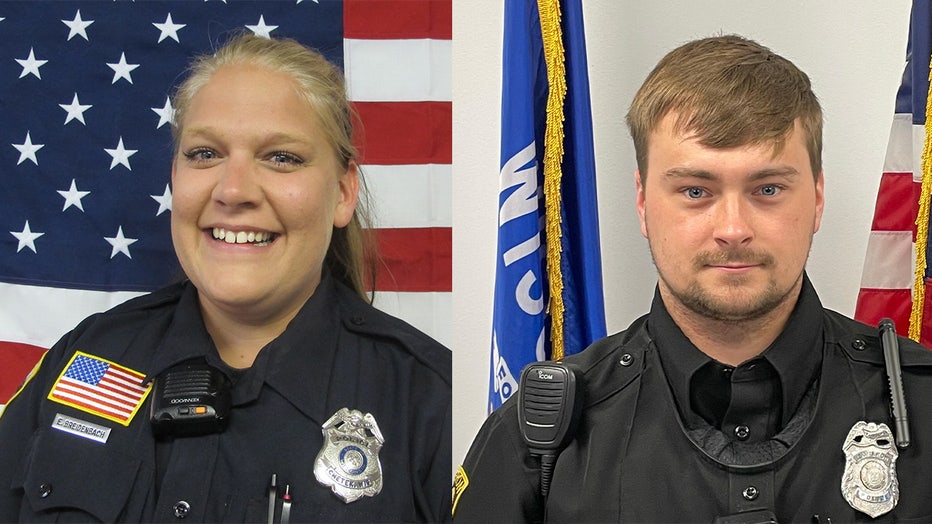 Chetek Police Officer Emily Breidenbach and Cameron Police Officer Hunter Scheel. (Supplied)